Deildartunga / Reykholt
As a low-temperature geothermal region, Reykholt in western Iceland is not part of any volcanic system. It comprises the geothermal areas Deildartunga in the northeast, Runnar in the southwest, and Ásgardur in center. Located in Reykholtsdalur, the valley of the river Reykjadalsá, the region possesses a huge number of hot springs. Deildartunga field (named after Deildartunga farm) is among others home of Kleppjárnsreykjahver or Klephúsreykir (covered by a cistern roof), Kársneshver (still existing?), Árhver, and Deildartunguhver. Both, Árhver and Deildartunguhver, are geysers.

Árhver (hot spring of the river), in the past also called Vellineshver, is located along a fissure within the bed of the river Reykjadalsá, 3 km (1.8 miles) west of Reykholt. It consists of 6 to 8 vents on small, more or less elevated sand flats, most of which are submerged at high water of the river. One of the southern vents spurts water up to 1 m (3 feet) high into the air. Activity seems to range between near perpetual and dormant. Deildartunguhver, the second geyser, is shown below in more detail.

The main spring of Ásgardur field is Hamralaug, of Runnar-Klettur field Þvottalaug. Skrifla and Dynkur (both covered by cistern roofs) are two hot springs and former geysers in the town of Reykholt itself. Further named springs in the Reykholt geothermal region are Heimahver, Aðalhver, Strokkur and Dynkur (all at Norður Reykir farm), Brautartunguhver (north of river Tunguá at Brautartunga farm), Sturlureykjahver (a former geyser at Sturlureykir farm), Hægindakotshver (at Hægindi farm), and Hurðarbakshver (at Hurðarbak farm, covered by a cistern roof). However, without a few protected exceptions like the geyser Árhver or the hot spring Hægindakotshver, all major springs are utilized today to a more or less extent.
Deildartunguhver
Deildartunguhver is Europe's largest hot spring, with a flow rate of rougly 180 liters per second and water temperatures between 95 °C and 97 °C (202 - 207 °F). On the one hand the spring itself is subjected to nature conservancy protection, on the other hand a few feet in front of the vents concrete walls discharge the hot water directly into a pipeline system. Most of it is used for central heating in the towns of Borgarnes and Akranes, the agricultural school Hvanneyri and some farms in the Borgarfjordur region. Deildartunguhver is spouting from at least nine major vents, which are located on the east slope of a little hill (Hverahóll) and along its base. In the last years the spring has become more powerful. Especially the northern vents (e.g. vent 9) are capable of up to 3 m (10 feet) high intermittent eruptions. In the past there had been both periods of lower and of higher activity. In his travelogue Travels in the Island of Iceland, during the Summer of the Year 1810 the Scottish geologist Sir George S. Mackenzie described two alternatively spouting vents, one reaching a height of 4 m (13 feet) over a period of 4 minutes, the other one playing up to 1.5 m (5 feet) during 3 minutes.

Due to the dense steam emissions and the narrow concrete edging it is quite challengig to take satisfying pictures of Deildartunguhver.
Deildartunguhver overview:
Blood red hued boulders gave rise to the name Sláturhver (slaughter hot spring) for the southern part of the spring.
Deildartunguhver-Sláturhver vent 1:
Deildartunguhver vent 3:
Deildartunguhver vent 5:
Deildartunguhver vent 9: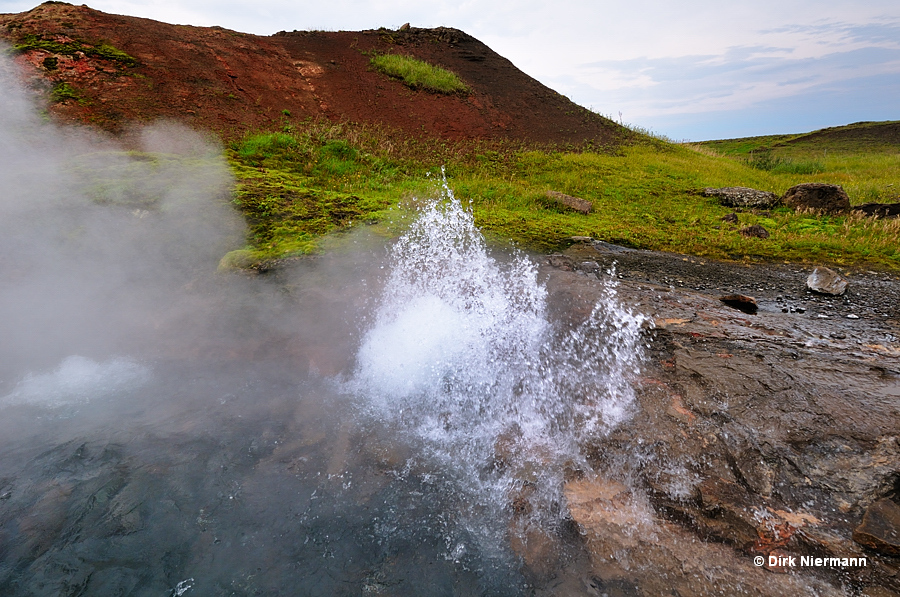 Content and photos on this homepage are protected by law. You may save photos on your Computer, but it is not allowed to use them in any other case without permission of the author. If you want to use photos originated by the author, please ask. Please respect licence conditions of photos of third parties on this homepage.