Geysir, Þykkvuhverir Group
Our virtual tour is starting in the south of Haukadalur site at the entrance across from the Geysir Centre. On the left a huge number of steaming springs and fumaroles extend over Þykkvuhverir area. At the corner between the trail and highway 35 the blue colored, quiet hot spring Gey 1 stands out because of the decorative arrangement of boulders along the rim.

Spring Gey 1: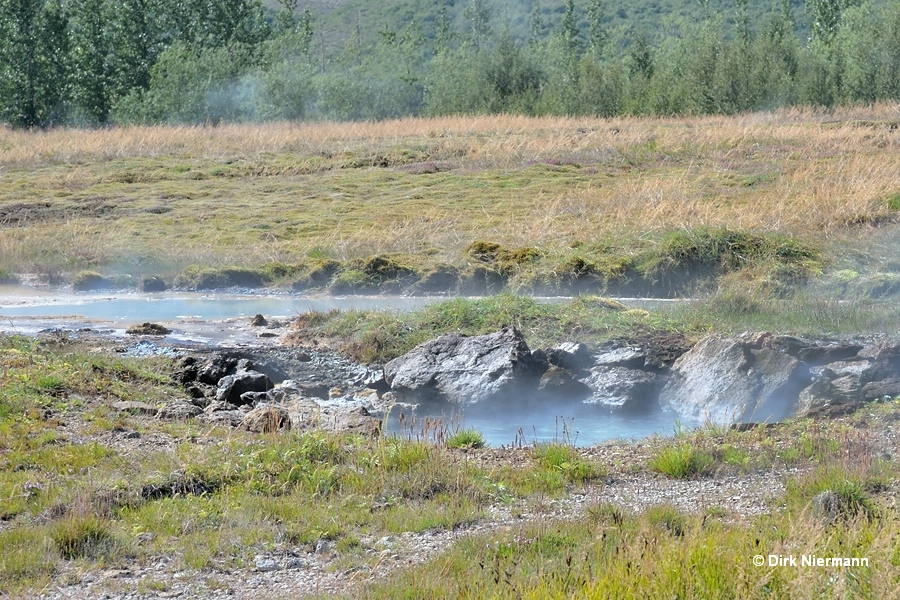 Hot Spring Haukadalur Iceland
A real geyser, even if dormant today, can be found a little bit north of spring Gey 1. Sóði (messy spring, the slob) is currently a more or less quiet hot spring, often partly covered with foam. Subsiding water from other springs cools it down which is one reason it is no longer active as a geyser. Sóði is capable of erupting up to 20 m (65 feet) high if the inflow of cold water is diverted and it is triggered with liquid soap. However, this is now longer practiced. Since Sóði is not so close to the trail and surrounded by steaming springs with bulky rims, it is hard to spot, especially in summer when the grass is higher. The best orientation gives a boulder with its engraved name.

Sóði:
Sóði Geyser Haukadalur Iceland
Southwest of Sóði, but too obscured to be visible form the trail, the hot pool Liljuhver (lily hot spring) is hidden. There are no reports available about spouting activity, so I assume that it is a quiet spring.

Along the trail north of Sóði the unnamed geyser Gey 2 sometimes attracts attention by small eruptions up to 1 m (3 feet) height. It is reported that it can be forced to stronger eruptions by adding soap. But as for all other springs of Haukadalur, this is no longer permitted.

The small geyser Gey 2:
Hor Spring Geyser Haukadalur Iceland
Even more striking than spring Gey 2 is Smiður (the smith), a dormant geyser, whose beautiful symmetrical sinter cone is located north, accompanied by a boulder with the name on it. As the story goes, due to the visit of the Danish King Frederik VIII in 1907 a smith dug out a clogged vent of an old spring or dormant geyser, which turned Smiður into an active geyser for some time. Eruptions reached between 3 m and 5 m (10 - 16 feet) height. Today it plays as a perpetually spouting hot spring only 1 m (3 - 4 feet) high. Remarkable are also the intensely blue spring directly in front and the small sinter cone in the northwest behind Smiður, which probably belonged to an active spouter in the past. Farther west beyond Smiður lies the large hot spring Jóhönnuhver (John's hot spring), which is not visible from the trail.
Smiður:
Smiður Geyser Haukadalur Iceland

Smiður Geyser Haukadalur Iceland
Beyond Smiður a less attractive concrete cistern with corroded pipes catches the eye. It covers a spring to supply hot water for the Geysir hotel.

Cistern spring:
The next quiet hot spring along the trail shows an unsually dark bottom. Paired with its elliptical shape and the raised back rim this probably led to the informal name Tröllaauga (trolls eye; not sure if I noted down the Icelandic name during the talk on location correctly, same for Álfaauga further below on this page).
Tröllaauga:
Tröllaauga Hot Spring Haukadalur Iceland
Proceeding north another noticeable, but unnamed hot spring is located quite close to the trail. Its pronounced vent is easily visible at the shallow bottom of an expanded quiet pool, one of the largest in Þykkvuhverir.

The unnamed spring Gey 3:
Hot Spring Haukadalur Iceland
Behind spring Gey 3, as seen from the trail, a cluster of unnamed hot springs is visible, comprising one larger spring with pronounced sinter rim, here listed as quiet spring Gey 4.

Spring Gey 4:
Hot Spring Haukadalur Iceland
On a remote position in the field the map shows a mud pot named Vigdísarhver (after Vigdís Finnbogadóttir, the first female president of Iceland). The investigation with field glasses or through a telephoto lens discloses that it is more a muddy hot spring in bright orange colors than a typical mud pot.
Vigdísarhver, seen from the north:
Vigdísarhver hot spring Haukadalur Iceland
Another spring also in the north of Þykkvuhverir but much closer to the trail is the small geyser Álfaauga (elf eye). Its intensely blue color already indicates high temperatures. The name may be fitting (do elves really have blue eyes?), even if it is unofficial and not shown on the map. On rare occasions the spring shows eruptions up to 1 m (3 feet) height and it seems that its activity increases over the years.
The geyser Álfaauga:
&Acute;lfaauga hot spring geyser Haukadalur Iceland
Litli Strokkur (small churn) is one of the northernmost features of Þykkvuhverir. It played as a geyser after earthquakes, but is currently dormant. Located at some distance from the trail this spring may easily be overlooked in spite of the engraved boulder nearby. The pictures show the vent in the weathered sinter cone to be still open and steaming.
Litli Strokkur: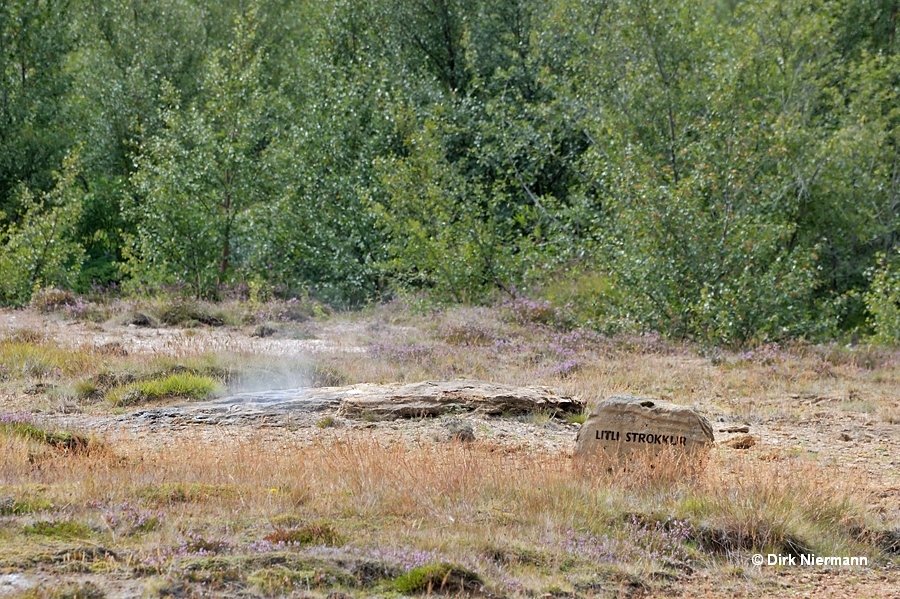 Litli Strokkur Geyser Haukadalur Iceland

Litli Strokkur Geyser Haukadalur Iceland
Probably there are more springs in the Þykkvuhverir area, which carry names, for example Gunnhildarhver (Gunnhilds hot spring). Up until now I didn't succeed in correlating all the names to pictures. Three named springs of the Þykkvuhverir group, Þvottahver (even if it is strictly speaking not a member of this group), Sísjóðandi and Móri are impossible to spot from the trail. In search for these features you have to leave the fenced area at Geysir Centre and walk outside along the fence on the highway 35 in western direction to the southwest corner. Facing north, follow the fence until you reach a gate. From the gate you can spot the eruptions of Sísjóðandi (the always boiling spring), but unfortunately the spring itself remains invisible, as shown on the second picture below. One day I was lucky meeting some people there who had the authorisation to access the area and gave me the opportunity to take some quick pictures of Sísjóðandi and of its neighbor spring. Sísjóðandi contains beautiful blue water and is one of the most active permanent spouters of Haukadalur, playing out of three vents more than 1 m (3 feet) high.
Sísjóðandi:
Sísjóðandi hot spring Haukadalur Iceland

Sísjóðandi hot spring Haukadalur Iceland
The adjacent spring east of Sísjóðandi consits of two pools, one of them located in a small grotto, which suggests that it might have been quite active in the past. Currently it appears to be a quiet spring.

Spring Gey 6:
Hot Spring Haukadalur Iceland
To the west a small, sparse wood adjoins to the enclosed area in Haukadalur. Inside the wood, near the runoff channel of Strokkur and Óþerrishola and quite close to the highway 35, the site-map indicates the position of Þvottahver (laundry hot spring). Other maps show this spring as Ullarhver (whool hot spring). On location three springs can be found. One is around 4m in diameter, the other two are smaller. All springs contain cold water, not matching the 80 - 90 °C (176 - 194 °F) listed on the map for Þvottahver. Based on this observation I'm not sure if Þvottahver still exists, at least as a hot spring. All three springs are located close to the drive-up of a nearby campsite and suffer from human interference by deposition of soil and waste.
Þvottahver / Ullarhver:
Þvottahver / Ullarhver hot spring Haukadalur Iceland
The campsite supplies also the opportunity to observe areas in the west of the enclosed Haukadalur geyser field, which are otherwise only barely visible (please ask before entering the campsite). One of the features here is the mud pot Móri (a male ghost).
Móri:
Móri mud pot Haukadalur Iceland

Content and photos on this homepage are protected by law. You may save photos on your Computer, but it is not allowed to use them in any other case without permission of the author. If you want to use photos originated by the author, please ask. Please respect licence conditions of photos of third parties on this homepage.