At least since the eruption of the volcano Hekla in 1597 Reykir field at the foot of Mt. Reykjafjall was known to be home of powerful geysers. Most prominent was the now-extinct Litli Geysir (small Geysir), formed by the Hekla eruption northeast of the area, where today the Agricultural University of Iceland is located. Prior to the 20th century Litli Geysir, and along with it the complete Reykir field, had been nearly as famous as the Geysir field at Haukadalur.
In June 1846 the German chemist Robert Bunsen visited the geyser and witnessed its eruptions. He found: "... Litli Geysir's bowl on top of a conical tuff mound, containing some boulders which were not always covered by water. Eruptions took place at very regular intervals of 3 h 45 minutes. The play started with a gradually increasing emission of steam and was prefigured by a sound of splashing from the deep. Then steam threw out boiling water foam with periodically rising and subsiding vigour. Steam and jets of hot water were squeezed through gaps between the boulders. After 10 minutes the eruption peaked with vertically and laterally spouting jets of 9 - 12 m (30 - 40 feet) height. The play continued for further 10 minutes, but its power gradually decreased until it came to an end." (R. Bunsen, Über den inneren Zusammenhang der pseudovulkanischen Erscheinungen Islands, Wöhlers und Liebigs Annalen der Chemie und Pharmacie, Vol 62, 1847, quote translated from German into English). The boulders in Litli Geysir's bowl Bunsen referred to originated from an avalanche around the year 1700, which partially buried the geyser.
The tallest known eruptions of Litli Geysir reached up to 30 m (100 feet), observed just after an earthquake in 1829. The data were published later by the Icelandic physicist and professor of the University of Copenhagen Þorkell Thorkelsson. However, on his visits in 1896 and 1906 he found Litli Geysir already to be no longer active (Þ. Thorkelsson, The hot springs of Iceland, 1910). Nowadays only the smaller Avalanche Geyser in Yellowstone gives a rough impression of what Litli Geysir's eruptions may have looked like.

According to Thorkelsson just north of Litli Geysir the geyser Tungarðshver (garden meadow hot spring) spouted up to 2 m (6 feet) high in 1883, but ceased playing somewhen at the end of the 19th century. Close by a cluster of muddy hot springs, called Ljótuhverir (ugly hot springs), was found.

Reykir also was home of the extinct geysers Svaði and Spýtir (see also below at Lava Spring) and, reportedly, of at least 9 further geysers, some of which might have been located within the meanwhile urbanized terrain of Hveragerði, such as Baðstofuhver and Gosi. R. Bunsen added a general description of further features of Reykir: "Older geyser mouths at Reykir are characterized by an extreme beauty of their blue water."

On May 29th, 2008, an earthquake with the magnitude of 6.3 (Richter scale) reactivated Reykir field considerably and many new thermal features, mainly boiling mud pots, were formed. Even the site of Litli Geysir showed steaming for a whole year after the quake. Although acitvity on location has decreased a little bit since then, vigorously boiling mud pots and colorful muddy hot springs can still be seen today. But first of all a warning: outside the core area and the designated trails close to the Agricultural University of Iceland thermal features are not equipped with warning signs and barrier tapes. The ground may be extremely dangerous. If you enter the area, it is on your own risk.

In the year of the earthquake four of the newly emerged springs and mud pots have been officially named: Reykjamóri, Leirgerður, Skjalfti, and Hrifla. On location you will find the related name signs next to the features. The southernmost spring, which is containing slightly boiling muddy water, is called Reykjamóri (smoky male ghost).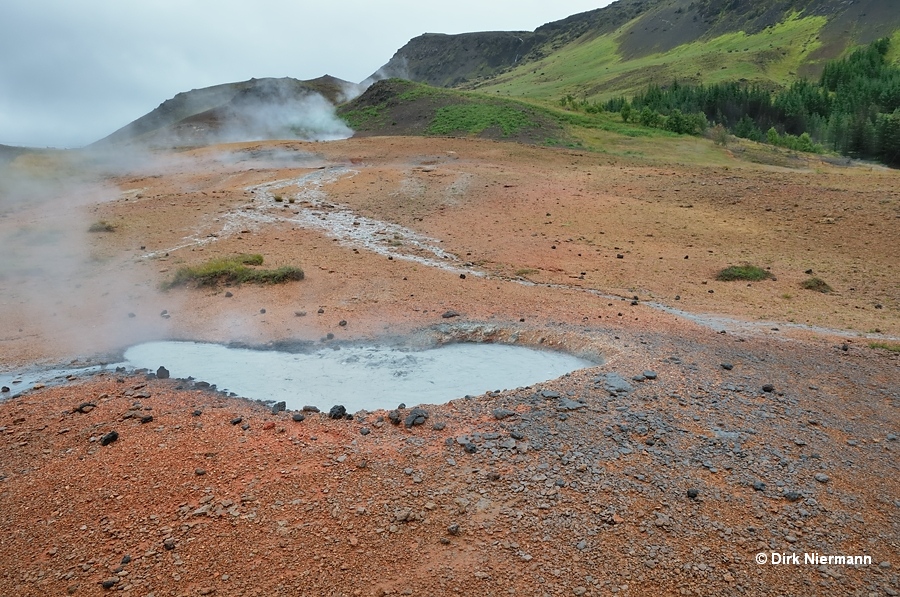 Continuing north two neighbored quiet hot springs in completely different colors come into view.
Uphill on the mountain slope steam columns indicate higher activity. The partly boiling collecting ponds at the base are called Leirgerður, which means "consisting of clay". Hrifla, the third named feature, is a boiling clearwater hot spring with an ornamental rim of siliceous sinter. It is located higher on the slope, 200 m east of Leirgerður.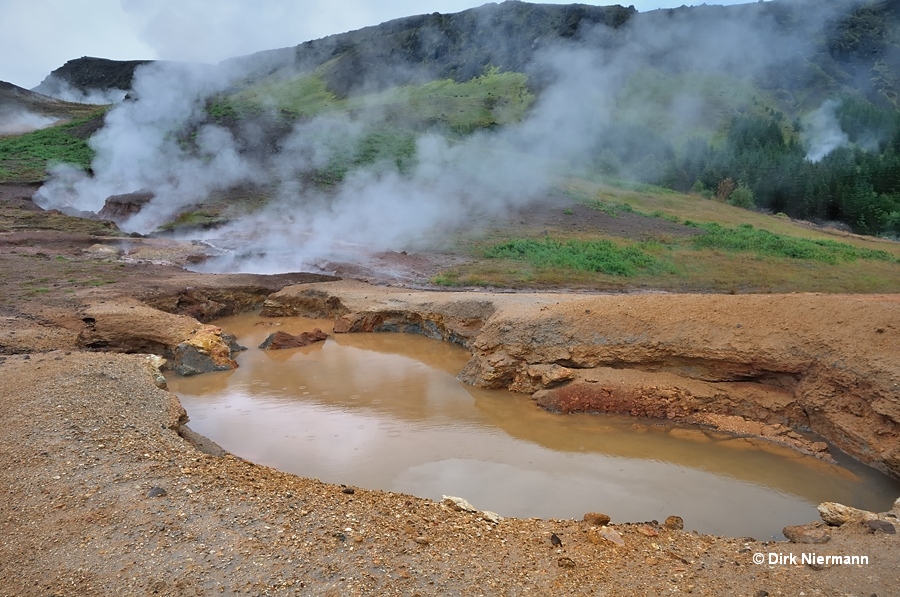 One of the currently most active features is the large and heavily steaming mud pot Skjálfti (quake).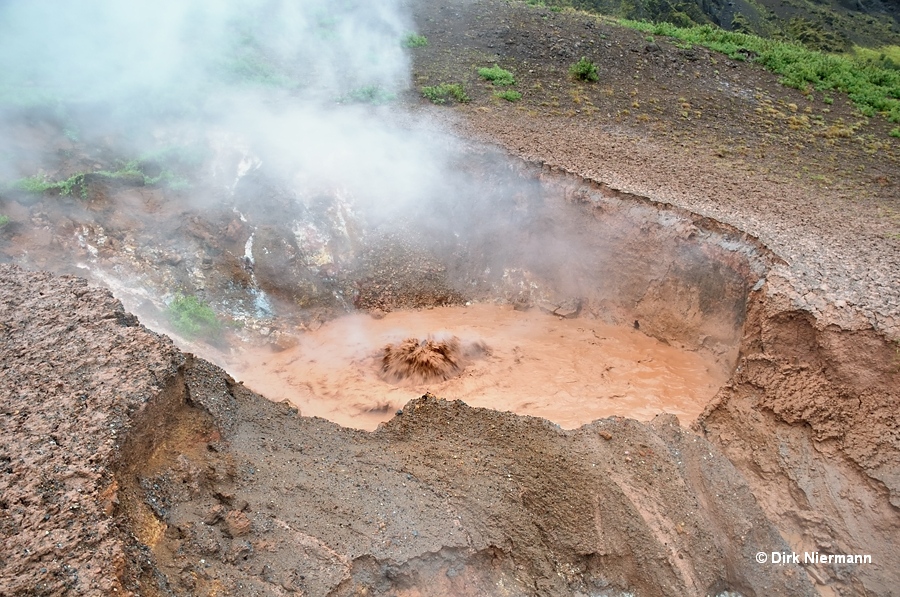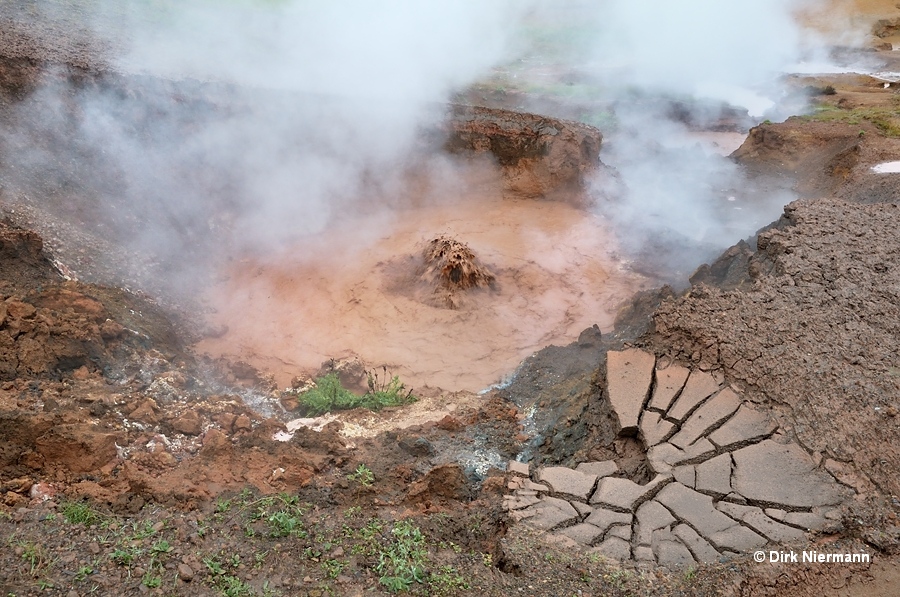 A somewhat cooler, but in terms of color interesting spring can be found north of Skjálfti.
Farther uphill a large, boiling muddy hot spring with not less colorful rim catches the eye.
Not far away from spring Rey 5 the tiny mud pot Rey 2 bubbles along.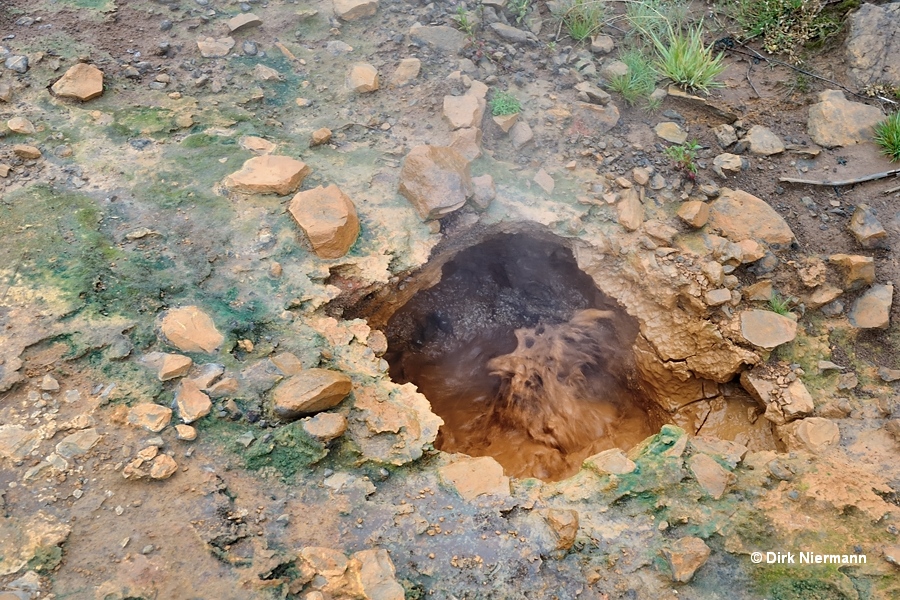 Widely scattered about the adjoining northern part of the slope of Mt. Reykjafjall up to Gufudalur further thermal features can be found. An example of a spring outside the core area is Rey 7, featuring nice colors.
Already at Gufudalur, not far away from the golf course, a quite large, vigorously boiling perpetual spouter is located. Its blood red rim creates the impression of a spring spouting glowing lava. No sign calls attention to the small, inconspicuous access path, so only very few external visitors may ever have enjoyed this stunning sight. There is some evidence that this is the site or at least close to the site of the extinct geyser Svaði (muddy spring). Besides entries in old maps (see Tomas F. W. Barth, Volcanic geology, hot springs, and geysers of Iceland, Carnegie Inst. Washington Pub 587, 1950) also the recent investigations of M.M Tharanga N.B Munasinghe Geothermal exploration in Gufudalur, Hveragerdi, SW-Iceland from 2013 state a former geyser site at this spot. Barth lists Svaði as "Geyser having cirluar basin 9 meters in diameter". Neither Thorkelsson nor Barth give any information about the eruption height, but Thorkelsson, at least, mentiones an interval of 20 hours in 1930 and a 36 minutes lasting eruption with a discharge of 43,000 liters of water. In his 1941 report Sonder supplied a description of Svaði as a nearly perpetually spouting geyser and added even a photo, showing a fairly large pool erupting to a height of approximately 1.5 m (5 feet). Northeast of Svaði once the two basins of Stekkatúnshver were located.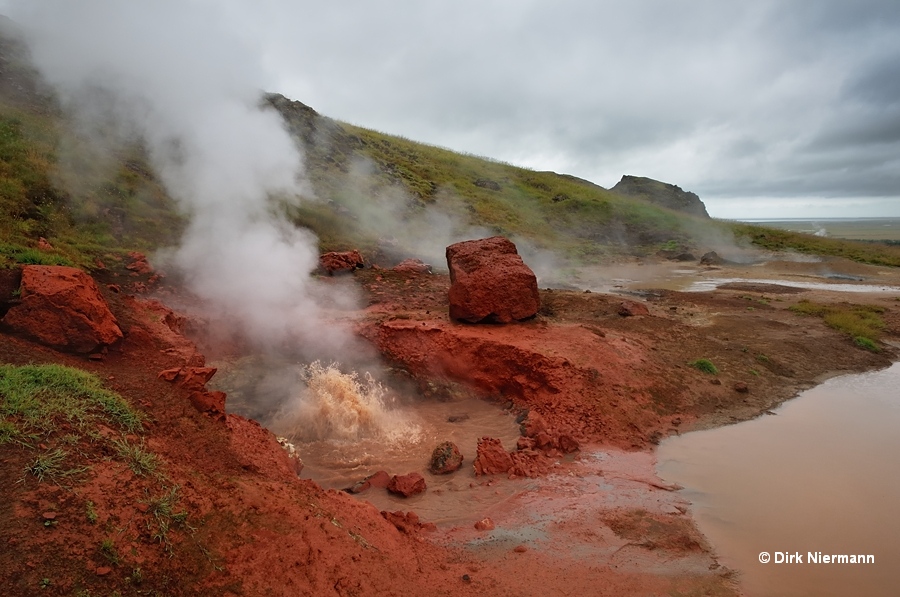 Lava Spring is surrounded by some smaller features. Examples are the muddy hot springs / mud pots Rey 8 and Rey 9. Round about 375 m (410 yards) north of this site Munasinghe also indentified the location of the extinct geyser Spýtir (spouter), which was mentioned as a "true geyser" in the same breath with Geysir by Sonder. However, Thorkelsson and later Barth described Spýtir as a circular basin, 1 m (3 feet) in diameter, filled with superheated water, and acting as a bubble shower spring. Around Spýtir, on a floor area of 1000 square meters (10,750 square feet), once many further springs were located, called Spýtir Group. One of these springs, 20 m northeast of Spýtir, was a busy geyser in the 1930s, playing 0.5 m (1.5 feet) high out of a small vent with an opening of 20 cm (7.9 in) at intervals of around 80 seconds.