At Eyvindarhver the path continues west and leads up to a small hill where Eyvindartóft, the ruin of Fjalla-Eyvindurs hut, can be seen. By leaving the hill in northern direction you will find more springs on a grassy plain. The first one along the small path is Mýrarhver (marshy hot spring), a circular shaped, slightly bubbling spring with somewhat lower water temperature.
North of Mýrarhver you reach Rótandi (rummaging spring), featuring higher temperatures but otherwise almost the same low activity.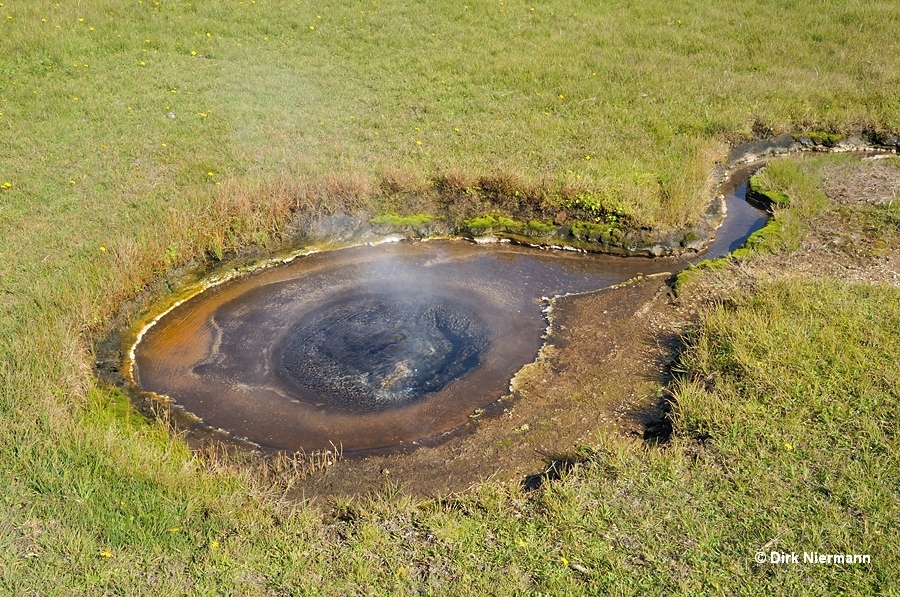 Steinþró (trough of stone), the westernmost thermal feature, may not be recognizable as such on the first look. Probably it is the remains of a former hot spring or fumarole. It has been named because the spot still exhibits slightly elevated temperatures.
Bóluhver (bubble hot spring), the namegiver of this group, is located east of Steinþró and Rótandi on the slope below the automated weather station. The once in a while gently splashing bubble-shower spring is also called Heimilishver (home hot spring), Húshitunarhver (house heating hot spring), or Ofnhver (stove hot spring). Its crystal clear, approximately 90 °C (194 °F) hot blue water is embedded in a snow-white lined bowl with delicate, porcelain-like sinter structures. The dimensions of the pool are roughly 2 m x 4 m (6,5 x 13 feet). Due to its remote position higher on the slope north of Rauðihver there is no direct access from the boardwalks of the Hveravellir spring area where it can only be spotted from a distance. You may approach it from northwest direction outside the area up to a certain distance and use a telephoto lens for pictures. Bóluhver had been utilized as source for hot water for the nearby weather station, before the operation mode was switched from manual to automatic in 2004. For that reason the spring was also called Rörahver (pipe hot spring).
Two very small intermittent springs are incorporated in the extended sinter rim of Bóluhver, the very colorful H204q and H204m.
The last member of the Bóluhver group, Gjósandi (erupting spring), is a small but active geyser northeast of Bóluhver, with eruptions up to 0,5 m (2 feet) high. At times when no eruptions occur it is unfortunately too far away to be identified from the trail and there is no chance to get a picture of the pool without leaving the permitted trails. In the past this spring was simply called Goshver (gushing hot spring).

Hot springs at Hveravellir are not restricted to the described area. They can be found also in the surroundings and many of them carry names such as Brennir, Þegjandi, Beljandavolgra, Kúluvolgra, and Eimur. However, these hot springs are not as attractive as the ones known from the "inner circle" of Hveravellir and hardly a tourist makes the effort to find them.