Gibbon Canyon Group flanks the road through Gibbon Canyon south of Artists' Paintpots. Most members of the group are rather inconspicuous and often ignored by visitors. The only exception is Beryl Spring, located in the southern section of the canyon and served by an own extended turnout alongside the road. Beryl Spring is a boiling blue pool, but not regarded as a geyser. Its name is derived from the light blue color of the aquamarine, a gemstone of the beryl group. Sinter samples showed a noteworthy concentration (1 - 1.4 ppm) of gold, as found at only a very few other hot springs in Yellowstone. Thus, Beryl Spring is a stunning example of how nature has mounted a gemstone in a golden setting. Also worth watching is GGCGNN073, the vigorously steaming fumarole behind the spring.
Across Gibbon River from Beryl Spring and a little bit north another attractive blue pool can be spotted. A runoff creek from upslope sitting thermal features flows through the quiet spring GGCGNN055 and continues to Gibbon River. This feature, or perhaps another one in close vicinity, has been discussed to be the original "Oblique Geyser" as described and named by Albert C. Peale, geologist of the US Geological and Geographic Survey, in 1883. But Peale's Oblique ceased playing and fell into oblivion. Walter H. Weed, geologist in Yellowstone for the USGS from 1883 - 89, later transfered the name to the geyser of Geyser Springs Group, which is now commonly known as Avalanche Geyser. However, Weed documented the transfer only in one of his notebooks without further publishing, so it remained unnoticed by the public for almost 100 years. This situation causes confusion about the legitimate name of the geyser up to the present time.
Farther north, close to the next roadway bridge over Gibbon River, the Formation Hot Springs are to be found. They comprise 30 different features, from GGCGNN013 through to GGCGNN042. For one of them, not far away from the highway bridge, geyser activity has been reported.
Only very few features of the Formation Hot Springs are large enough to be spotted from the road. One of those examples is the little spouter GGCGNN017.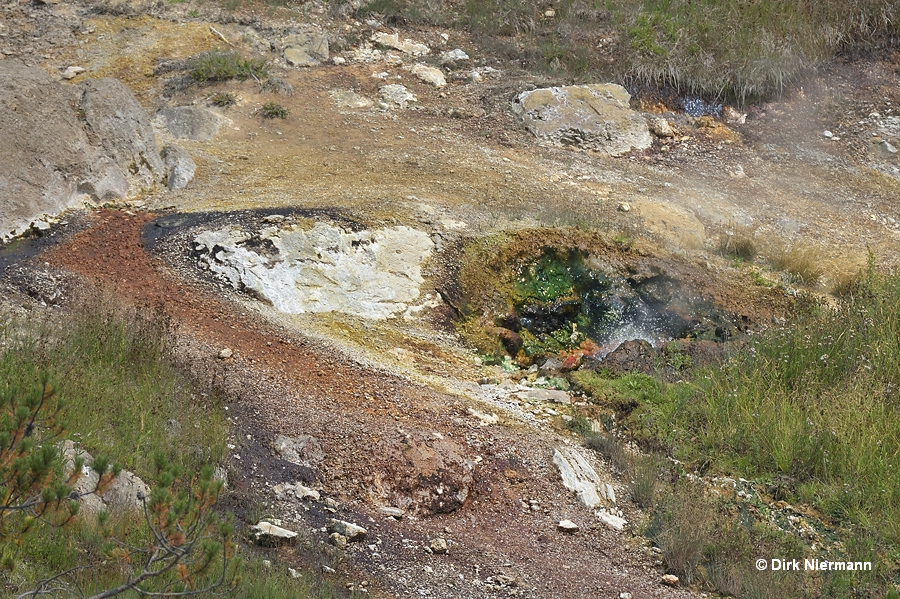 The roadway turnout just north of the Formation Hot Springs gives also access to the two adjacent steam vents GGCGFM001 and GGCGFM002. Quite often travellers stop by to inspect the bare, steaming ground next to the highway. Mostly, they leave a bit disappointed.
The slope below the western shoulder of the highgway is home of some hot springs, too. They are hard to see from the road and not so close to each other. GGCGNN010, listed by T. Scott Bryan as UNNG-GIB-15, is located diagonally across the road from the steam vents described above. Eruptions of this spring are known, but they were rare and small.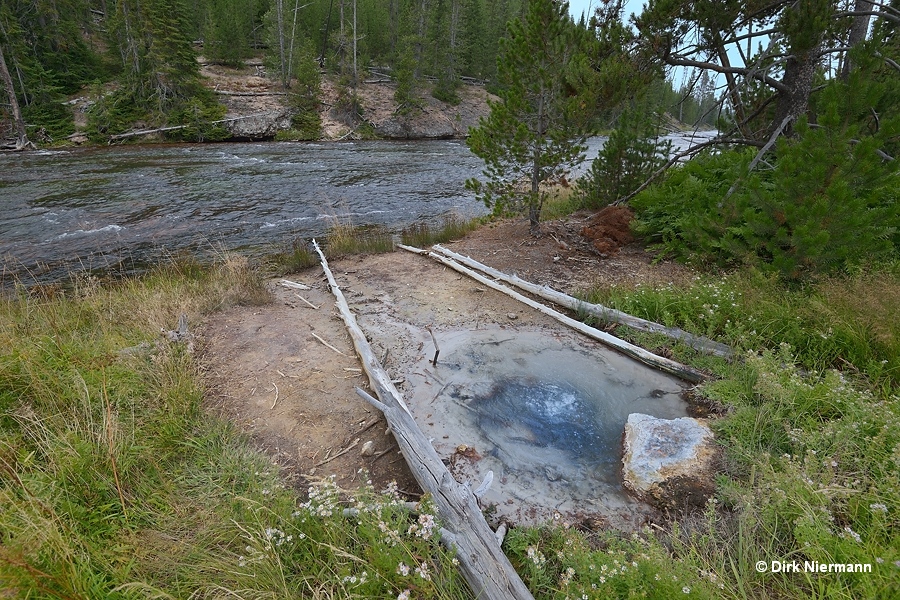 Approximately 200 m (700 feet) north next to the highway the perpetual spouter GGCGNN009 is nearly buried by debris.