Last stop along Firehole Lake Drive is Black Warrior Group, encompassing features around a cluster of three lakes. The upper one is Firehole Lake in the east, wherefrom the hot water flows through Black Warrior Lake into Hot Lake in the west. Firehole Lake Drive bridges the flow between Firehole Lake and Black Warrior Lake. Firehole Lake is not only home of geysers on its bank, but also a hot spring of its own, fed by several submerged vents.
A boardwalk along the south bank of Firehole Lake leads to Young Hopeful Geyser and subsequently to Artesia Geyser. Most of the time both are acting as perpetual spouters and both are known to develop new or additional vents over the decades. The pools shape suggests that it has been carved into the ground by the continuously proceeding vent.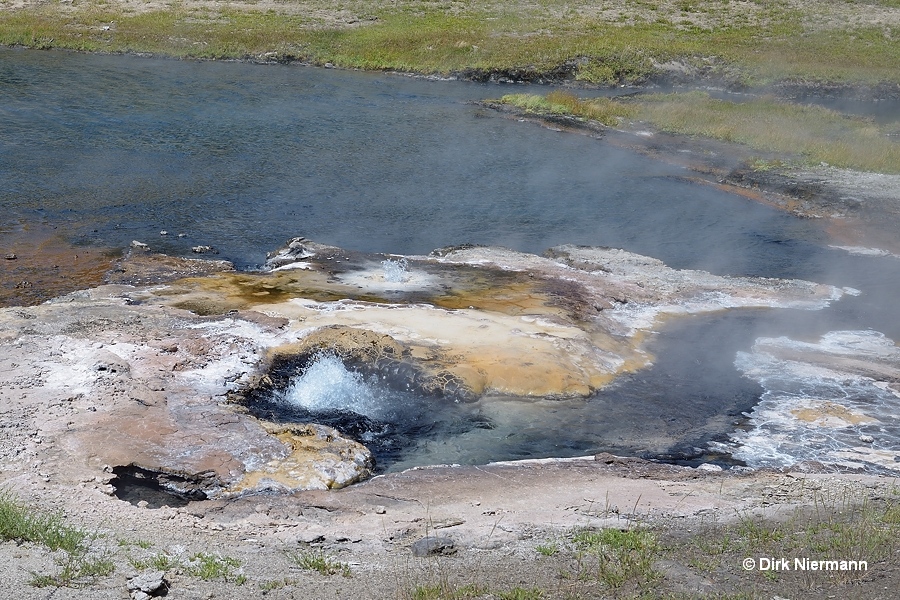 On its way from Firehole Lake to Black Warrior Lake the flowing water passes Steady Geyser. Steady Geyser is a perpetual spouter, too, and as such one of the largest in Yellowstone. In earlier times the top vent used to be by far the stronger one, but now it has largely declined and the side vent took over the main action.
Steady Geyser is located on the east bank of Black Warrior Lake, near non-spouting, submerged Black Warrior Spring, which also feeds the lake. The colorful runoff of Black Warrior Lake at its west side into Hot Lake is called Hot Cascades.