Page 1 2
On the roadway from Old Faithful area to Madison direction signs lead to "Fountain Paint Pot", where you also will find the other features of the Fountain Group. Because of the bubbling paint pot and the high number of active geysers and colorful hot springs on a small area, this is one of the most popular destinations for visitors.

The loop trail, completely consisting of boardwalks, starts at Celestine Pool. As to be seen on the picture it can be regarded as a geyser due to frequent small eruptions caused by superheated boiling. As lovely as Celestine Pool may look, as deadly it has proven to be. A lethal accident occured in July 1981, when a 24-year-old man from California dove headfirst into the 84 °C (183 °F) hot spring to rescue his friend's dog. The man was pulled out alive but died the next day, the dog's body has never been recovered.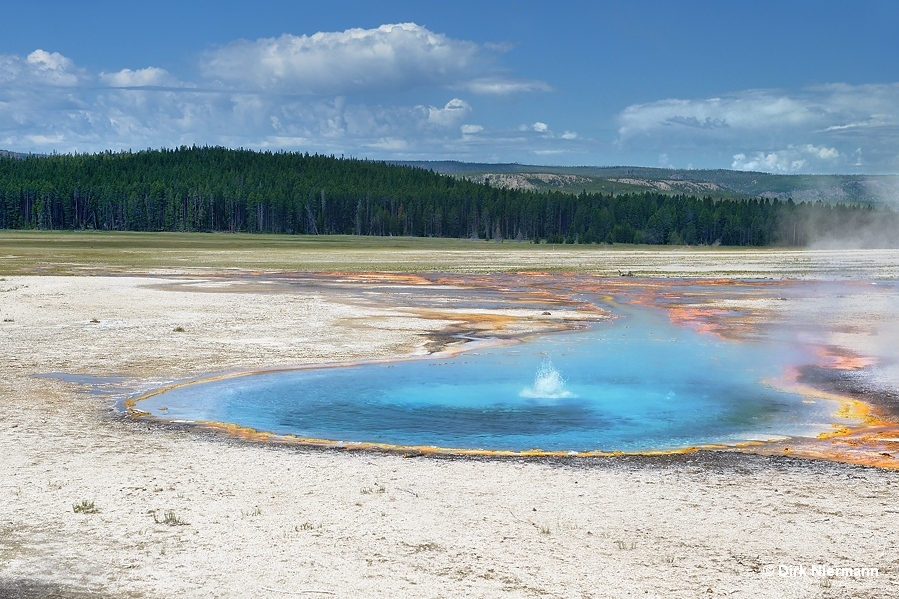 90 m (100 yards) northeast across the boardwalk Silex Spring is a geyser, too. But eruptions are very rare and last seen in 2006. Nevertheless, it's a nice colorful blue pool.
For many visitors the main attraction on location is Fountain Paint Pot. Pastel pink and light blue are the main colors of the hot bubbling slurry. The formation, but even more the bursting of the bubbles make great shots.
The area north of Fountain Paint Pot comprises two reddish fumaroles, one of them is named Red Spouter. When the groundwater level is high, the two craters of Red Spouter are acting actually as a perpetual spouter.
The large, quiet pool across the boardwalk from Red Spouter is called Leather Pool. Proceeding west on Paint Pot Hill you come across some quite inconspicuous features on the right (north) side of the boardwalk, among them a weathered sinter mound named Old Cone Spring and next to it Old Cone Geyser (also called Volcanic Tableland Geyser), which erupts very rarely.
West of Old Cone Geyser some stairs lead down to the sligthly sloped sinter flats, home of the so-called Fountain Complex. In 2013 just north of the stairs a usually empty crater has filled with water and has been informally named "Peanot" (Pool East And North of Twig) by a geyser gazer. Meanwhile the pool developed into a low erupting geyser.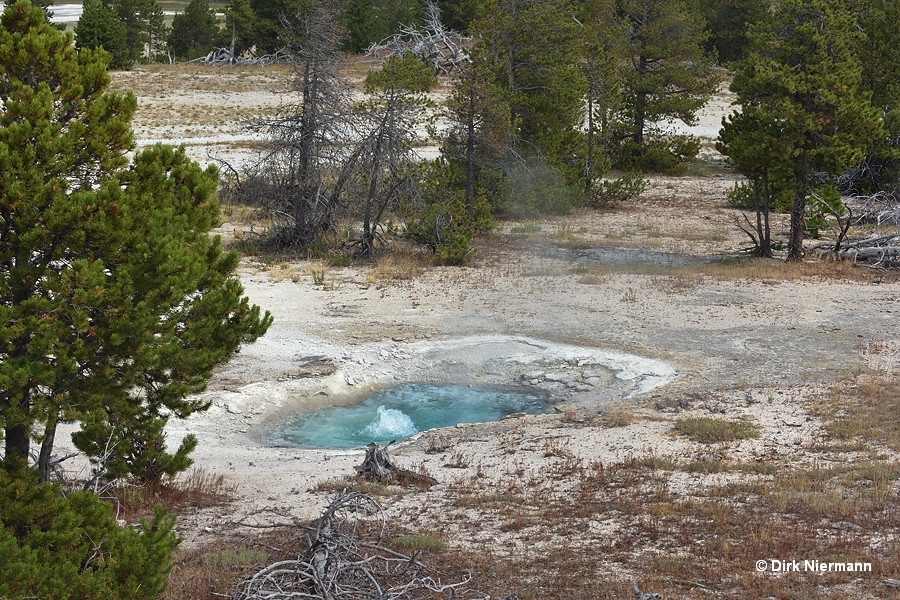 Page 1 2