Fountain Flat Drive, Marshall's Hotel Group
In his book The Geysers of Yellowstone T. Scott Bryan has introduced Marshall's Hotel Group to integrate some widespread features along the east section of Fountain Flat Drive. The name of the group goes back to the old Marshall's Hotel, which was located 160 m (525 feet) southwest of present Nez Perce Picnic Area just across the road from Hygeia Spring and was knocked down in 1895. Usually, a vistor will only come across the quiet Maiden's Grave Spring directly on the bank of Firehole River. Twilight Geyser lies far out in the flat beyond the river and is a very rare performer. Hygeia Spring, next to the roadway some hundred yards to the east, is not visible since it is located on top of a high sinter mound, where access is not permitted.
Maiden's Grave Spring in 2013:
Maiden's Grave Spring Yellowstone
Maiden's Grave Spring is named after the more than 100 years old grave of Mattie S. Culver, who died from tuberculosis at the age of 30 at Marshall's Hotel in Yellowstone. Her gravestone reads: "MATTIE S. Wife of E.C.CULVER, DIED March 2,1889, AGED, 30 Years.". The grave lies at some distance to the spring between Nez Perce Picnic Area in the north and the old hotel site in the south.
Maiden's Grave: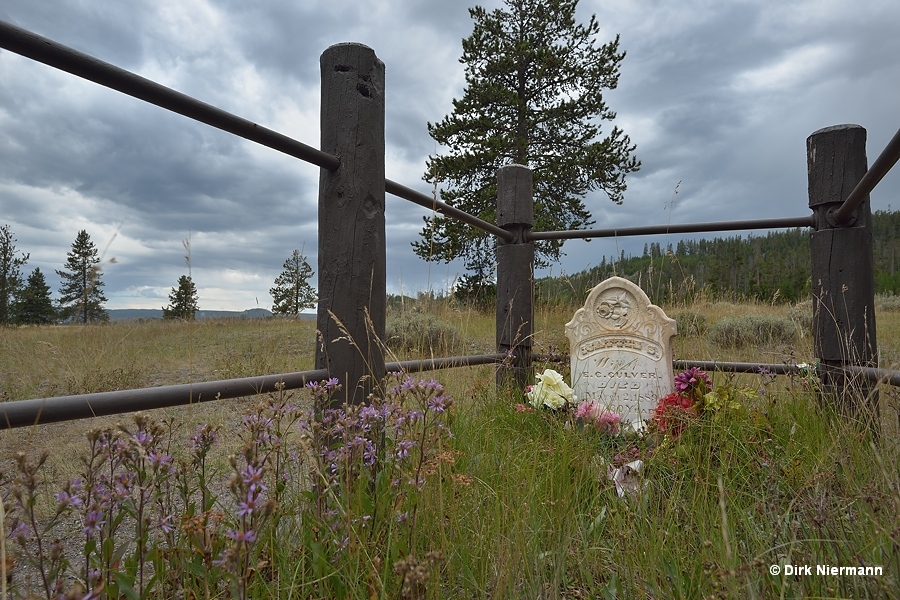 Maiden's Grave, Mattie S. Culver, Yellowstone

Content and photos on this homepage are protected by law. You may save photos on your Computer, but it is not allowed to use them in any other case without permission of the author. If you want to use photos originated by the author, please ask. Please respect licence conditions of photos of third parties on this homepage.