Lower Geyser Basin, Thud Group
Northeast of Fountain Paint Pot across the highway a relatively small cluster of geysers and hot springs forms the Thud Group. Up until 1923 the area south of Thud Group was occupied by Fountain Hotel, which has been knocked down completley. Due to considerable damagage to the hot springs caused by visitors of the hotel, Thud Group has been closed to the public later. Today it can be observed from a roadway turnout and from the site of the old hotel.
Thud Group, overview on the western part:
Thud Group Yellowstone
Thud Group, overview on the eastern part:
Next to the roadway Fungoid Spring is the southwestern most geyser. The mushroom-shaped geyserite knots only become visible by binoculars or a telephoto lens. Eruptions are very rare and were seen for the last time in 2005.
Fungoid Spring:
Fungoid Spring Yellowstone
Thud Spring southeast of Fungoid Spring is the feature closest to the site of the old hotel. From there it is quite good to see. Unfortunately eruptions are as rare as with Fungoid Spring.
Thud Spring:
Thud Spring Yellowstone
Beyond Thud Spring on top of a wide sinter mound Stirrup Spring, which is no geyser, and the geyser UNNG-THD-1 are located. Due to the adverse viewing angle from legal observation points both are only marginally visible.
Stirrup Spring on the lefthand side and UNNG-THD-1 on the righthand side on top of the sinter mound: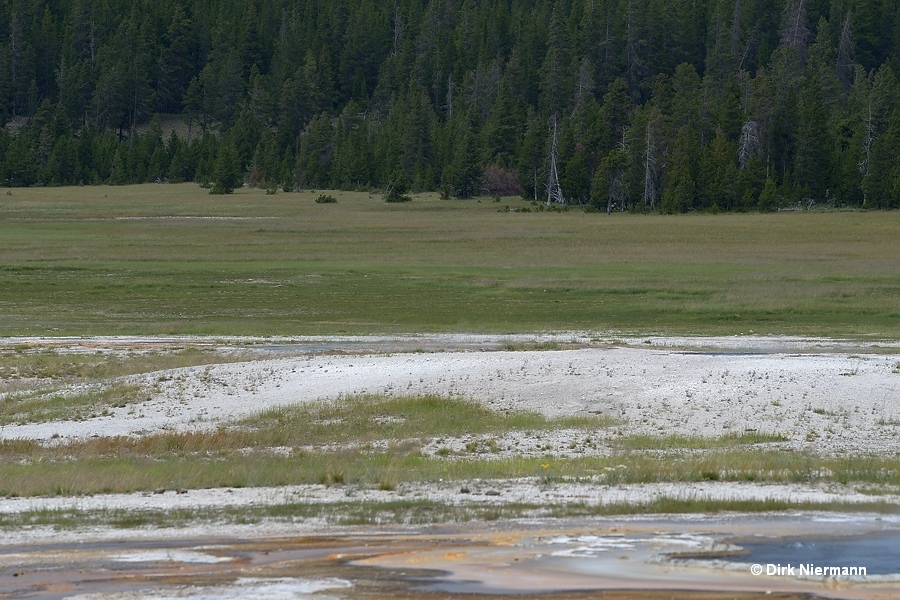 Stirrup spring and UNNG-THD-1 Yellowstone
Gourd Spring occupies the southeastern corner of Thud Group. It is even more rarely erupting than Thud Spring.
Gourd Spring: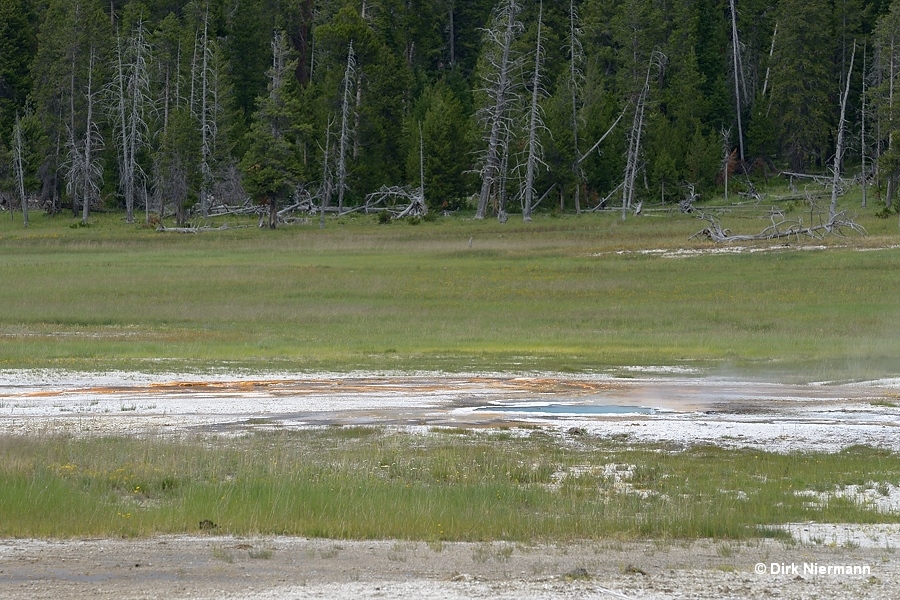 Gourd Spring Yellowstone
Because Oakleaf Spring in center of Thud Group is more or less impossible to spot from the permitted overlooks, Kidney Spring at the northern corner is the last one to be shown. In contrast to the others members it is frequently erupting up to 1 m (4 feet) high.
Kidney Spring in eruption: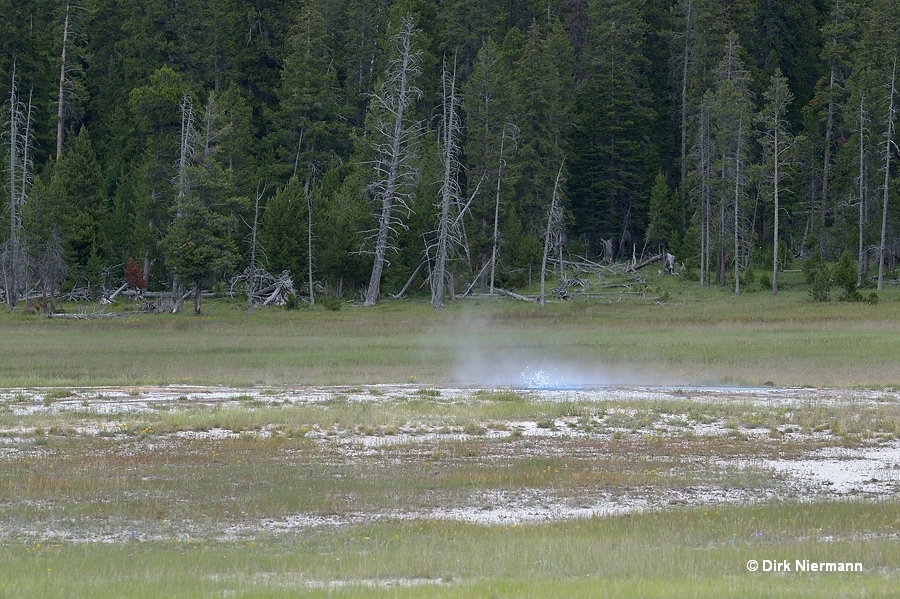 Kidney Spring Yellowstone

Content and photos on this homepage are protected by law. You may save photos on your Computer, but it is not allowed to use them in any other case without permission of the author. If you want to use photos originated by the author, please ask. Please respect licence conditions of photos of third parties on this homepage.