White Dome Group is traversed by Firehole Lake Drive a few hundred yards northwest of Great Fountain Group. It is dominated by the large sinter cone of White Dome Geyser.
Despite of its impressive, 3.5 m (12 feet) high cone, which is one of the largest in Yellowstone, White Dome Geyser generates only medium sized eruptions of about 9 m (30 feet) height. Nevertheless it's well worth waiting for, since the interval is on average only 30 minutes long. Interval durations are quite variable, though. Its a little bit strange, but every time I come across White Dome Geyser the smooth white and red sinter coating conveys the impression of sugar icing to me.
On the right (east) side of the road a small group of geysers catches far less attention. Most likely the dark grotto of Cave Spring may tempt some visitors to take a first closer look. Cave Spring is a perpetual spouter, but activity takes place deep down and is impossible to see from the road.
At the northwest (left) side of Cave Springs opening Crack Geyser is located within a rough sinter structure. If not active, the vent is hard to identify, and activity is quite rare.
The feature in front of Crack Geyser next to the road is called Pebble Geyser. Eruptions have been recorded for the last time in 2003.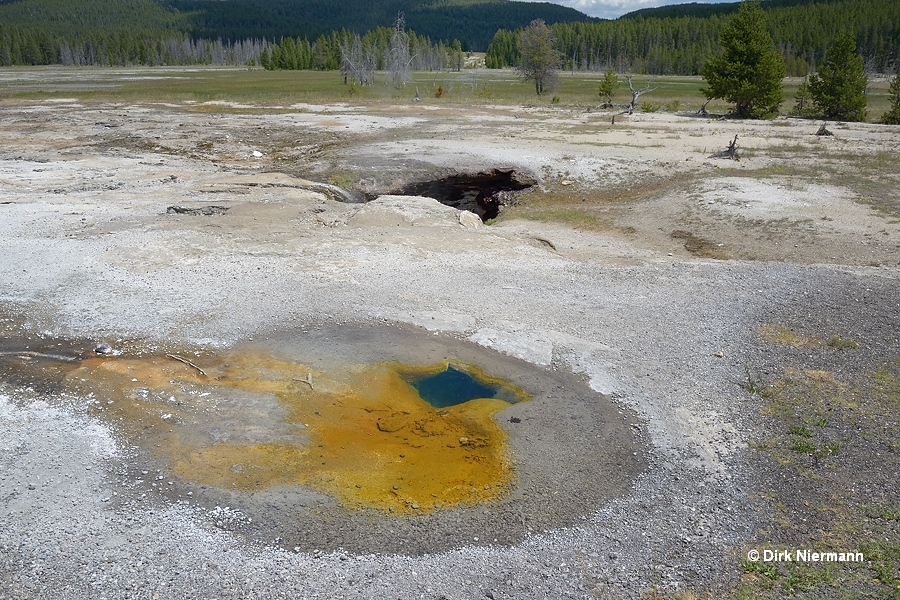 To the north the two vents of Gemini Geyser complete the small cluster of features. The activity of Gemini varies from nearly daily to years of dormancy. Three feet to the right of Geminis right vent, directly beyond the edge of the runoff, the small vent of UNNG-WDG-2 is visible, which was active in 1993.