Rabbit Creek Group occupies the area around the Fairy Falls trailhead parking lot. In other words, for some reason the parking lot was built at the exact center of Rabbit Creek Group. Except for Till Geyser the geysers of the group are lined up along Firehole River. They are generally small and hardly active.

Most prominent are the two large blue pools on either side of the parking lot. The pool south of the parking lot is named Egeria Spring, its northern twin Tire Pool.
Between Egeria Spring and Firehole River the quiet spring MNN012 shows up.
After crossing Firehole River the Fairy Falls Trail passes Silent Pool, a former geyser. Indeed, now it is a silent pool and it is silently suffering from the debris people have thrown into it.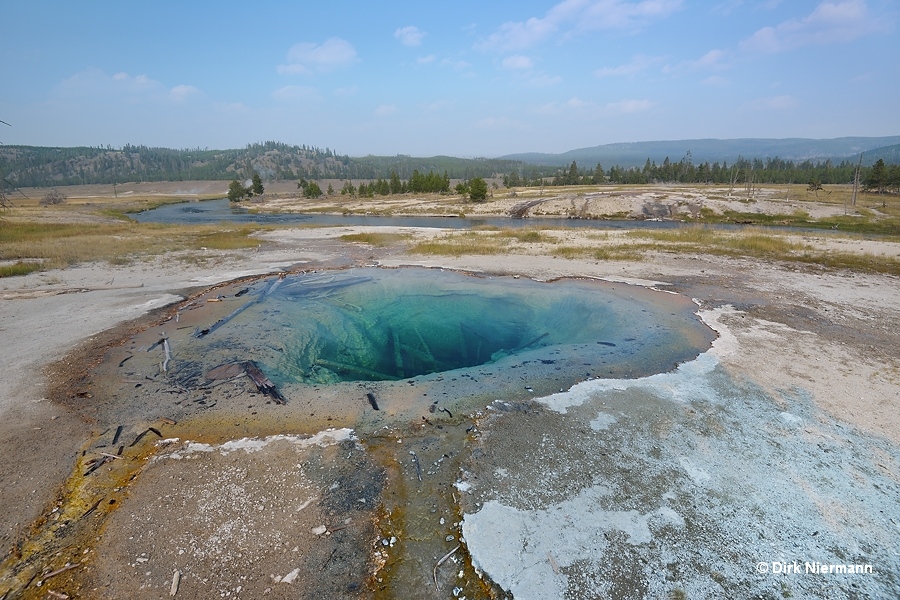 In 2017 the Fairy Falls Trail and the trailhead were renovated, and obviously Silent Pool was cleaned, too. Maybe it is naive to hope that in future visitors resist the temptation to litter up the pool again. As you see on the next picture, bison could not resist.
A little bit farther north there is another hot spring along the trail, which seems to be listed neither by name nor by code number.
Across the highway from the parking lot Till Geyser and Three Vent Hot Spring are to be found. While Till Geyser is located uphill at a little distance, Three Vent Hot Spring is near a turnout and easy to see. At least at low water level all three vents show a different character with different colors.