The northern part of the Back Basin loop trail comprises fewer features, nevertheless its well worth the hike. Palpitator Spring may be small, but is a geyser with an interesting play. Prior to and also during an eruption concentric waves propagate (palpitate) over the surface of the circular pool. Eruptions are up to 1 m (3 feet) high.
Fearless Geyser is neighbored to Plapitator Spring. It shows only weak boiling.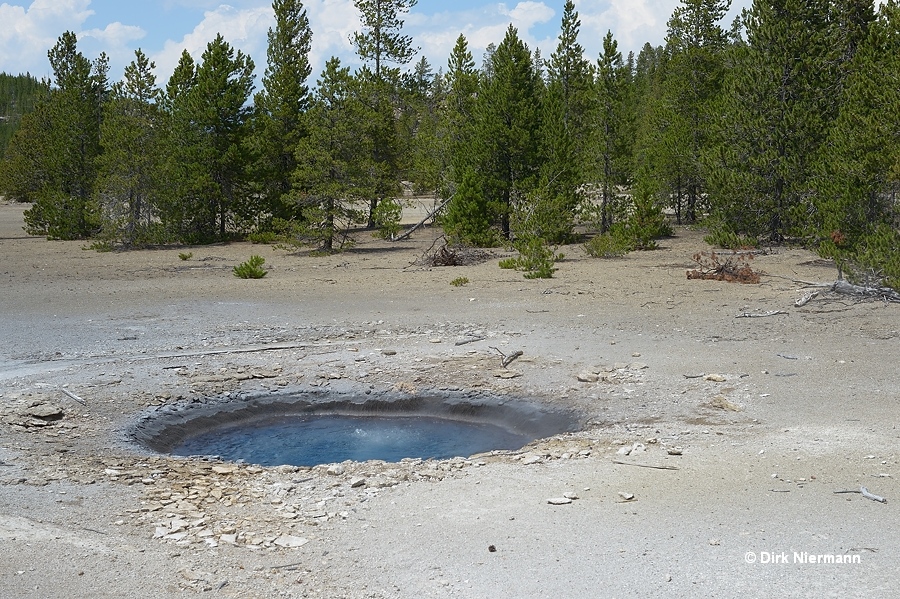 One of the most impressive geyser craters of Yellowstone is occupied by Monarch Geyser. Major eruptions up to 60 m (200 feet) were recorded up until 1913, followed by only a few minor eruptions in later years.
Further down the boardwalk a cluster of perpetual spouters beyond a small blue pool catches the eye, unofficially called "Norris Sinks". The entire area south of Branch Spring seems to be very active and changes occur quickly.
Branch Spring and Minute Geyser complement each other nearly perfectly both in terms of color and of activity.
Despite of its name Minute Geyser nowadays acts as a perpetual spouter. In the past it showed true geyser activity and erupted up to 18 m (60 feet) height. This changed after the main vent had been clogged with a boulder by a vandal.
The way back from Minute Geyser to the Norris parking lot leads through dense forest, where you find Forgotten Fumarole well separated from the other features.
Immediately west of Norris Museum muddy Bathtub Spring brings up the end of the northern loop trail.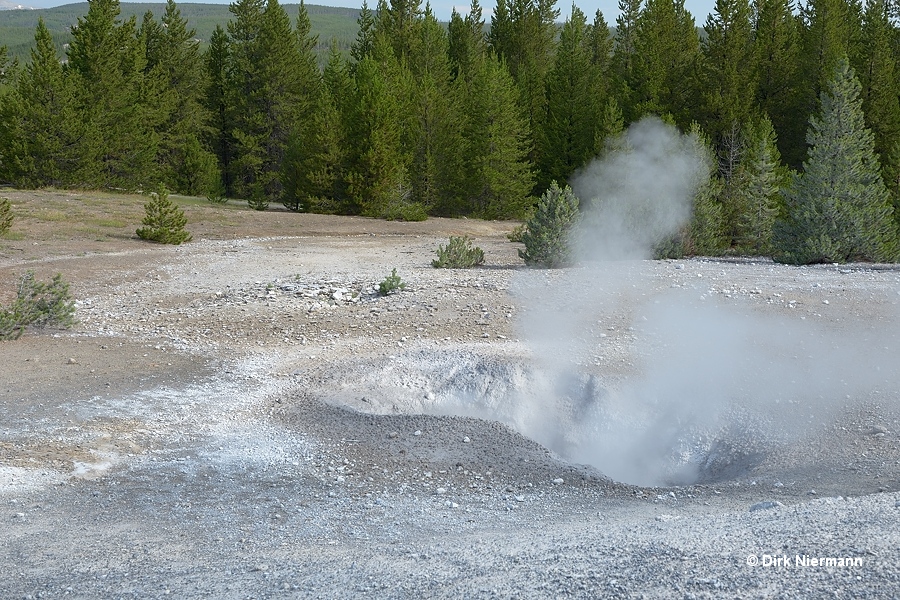 Leaving Norris Back Basin, you may catch a glimpse of Steamvalve Spring, which is languishing in obscurity in a fenced off area behind the Norris book store. Once it was a geyser, but is now out of sight from the public and up-to-date information is hardly available.