Just like Elk Park Springs the designation "Norris Mammoth Corridor" stands for a whole thermal region. Located north of Norris Porcelain Basin and Norris One Hundred Spring Plain, it extends both along three fault lines and along the highway to Mammoth and comprises small, sparsely scattered groups of thermal features.

Approximately 4 km (2.5 miles) north of Norris Junction, Nymph Lake is located on the west side of the highway. Coming from Norris Junction, a small thermal area appears southwest (left) of the road, 200 m (220 yards) before you can spot Nymph Lake from the highway. Also on the west side of the road a turnout provides the opportunity to stop in direct vicinity of the springs for a closer examination. They are called Frying Pan Springs and the name indicates exactly what it is: wet, boiling soil on both sides of the road and a shallow, boiling pond in the west. The single features are named Frying Pan East, Frying Pan West, and Frying Pan Bowl. (Update 2017: During the roadwork from 2015 to 2018 the Frying Pan Springs were equipped with an observation platform to support access and viewing.)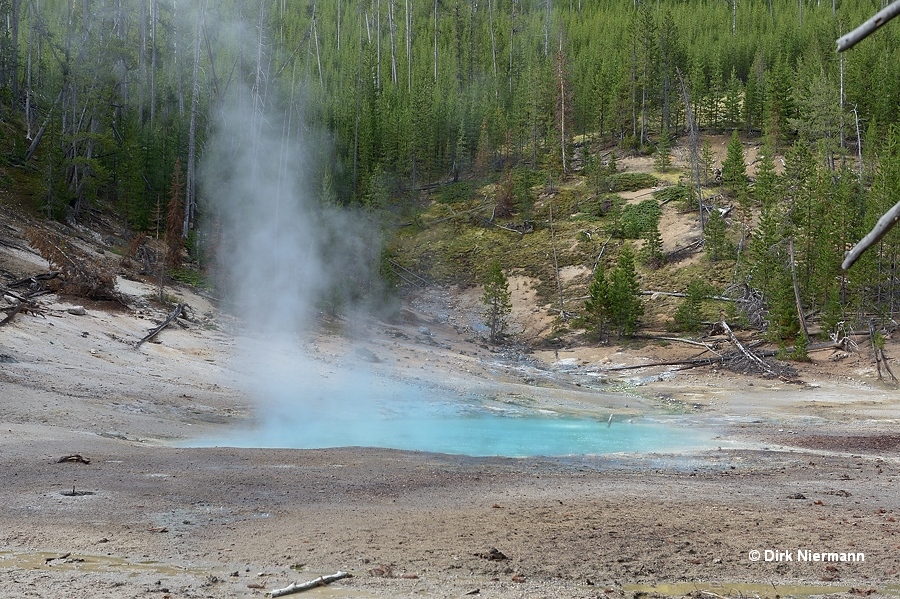 When you proceed on the highway 200 m (220 yards) farther northwest, the next turnout on the west side is the Nymph Lake viewpoint. Next to the base of the slope below the turnout and on the shore of Nymph Lake some small hot springs can be observed. Two of them, Roadside Spring East (MNCNN031) and Roadside Spring West (MNCNN030), are a little bit more noticeable. Roadside Spring East seems to be a perpetual spouter or small geyser.
5.5 km (3.5 miles) north between Nymph Lake and Twin Lakes a further hot spring flanks the road. Bijah Spring can be spotted at the Nymph Creek meadow west of the highway. It is a quiet hot spring, no geyser activity is known.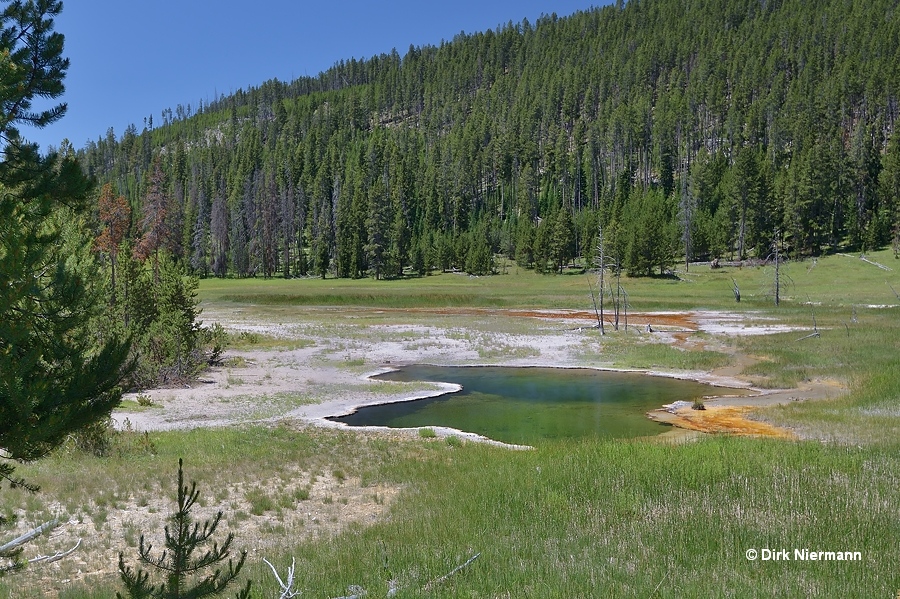 Continuing north, a quite prominent destination comes into view. At the beginning of the 20th century Roaring Mountain was described as hillside peppered with fumaroles, roaring loud enough to be heard from miles away. The fumaroles can still be seen today, but the noise is almost completely gone.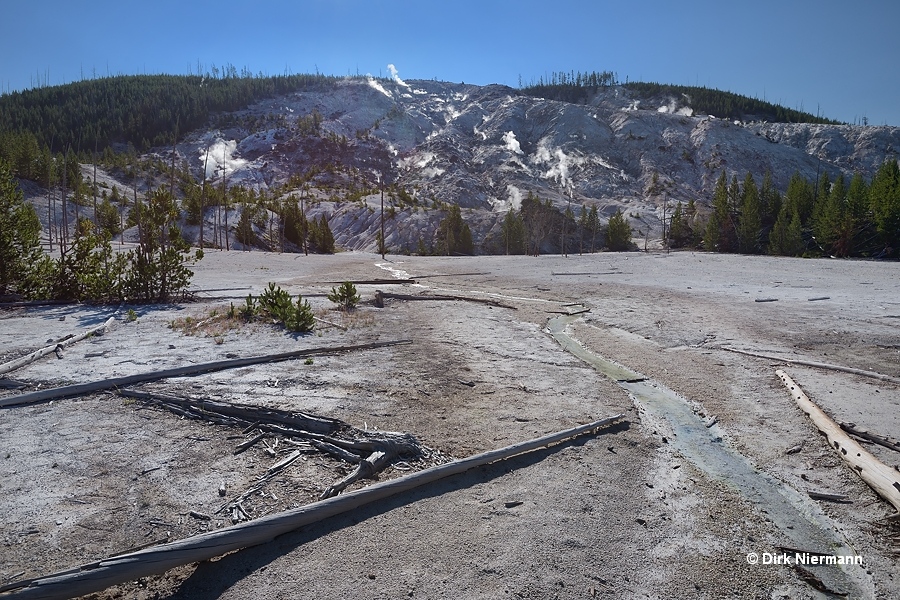 Across the road, 600 m (650 yards) north of Roaring Mountain, the Clearwater Springs line Obsidian Creek. Its most prominent member is Semi-Centennial Geyser, which erupted in 1922, the year of Yellowstone's fiftieth anniversary, up to 90 m (300 feet) high. Unfortunately, then the geyser merged with Obsidian Creek, which ceased all spouting activity. Semi-Centennial is regarded as the northernmost geyser in the park. (Update: In the course of the roadwork from 2015 to 2018 the Clearwater Springs were equipped with a platform, so observation is now more comfortable.)