The features of Orion Group occupy an expanded sinter hill south of Minute Man Group. Springs from its western section drain off into Shoshone Creek, those from the eastern section into Shoshone Lake. Taurus Spring is the northernmost notable feature of the group. It is a superheated boiling bubble-shower spring and also a little bit stronger eruptions have been observed in the past.
South of Taurus Spring the deep vent and shallow basin of Fleur-de-Lis Spring catch the eye, the contour line resembling the lily symbol in French heraldry. No spouting activity is known from this spring.
Fleur-de-Lis Spring is surrounded by some satellite springs. On its northwest side Yellow Boiler Spring is located.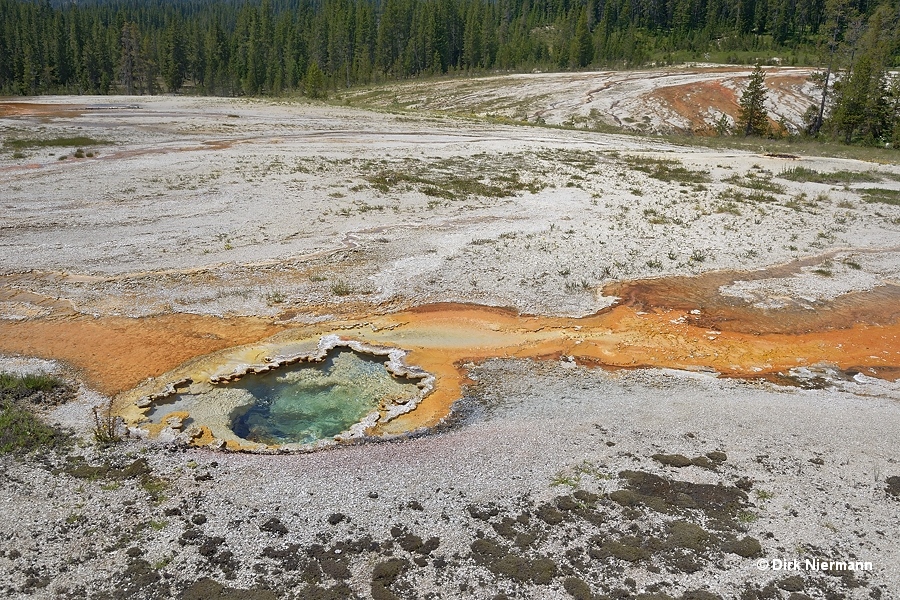 Farther west its counterpart in terms of color, Black Boiler Spring, can be found.
Undermine Spring lies southwest of Fleur-de-Lis Spring. The vent literally undermined a small sinter ledge.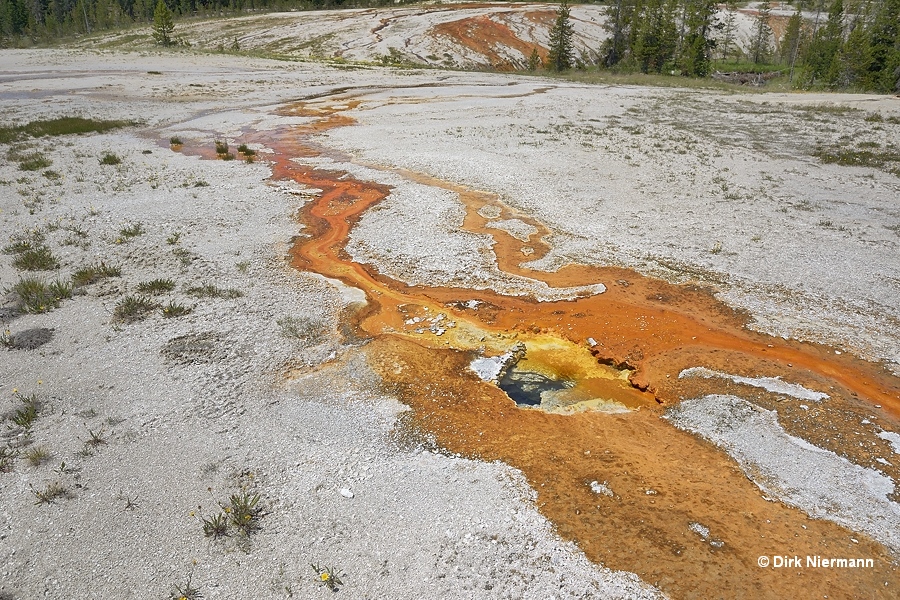 Kitchen Spring, a few feet south of Fleur-de-Lis Spring, shows superheated boiling just like Taurus Spring. Its name origins from the use as a cooking spring by the Hayden expedition in 1878. Interestingly, Kitchen Spring's vent has two openings, one in center and one below the west sinter rim.
Adjacent to the south is SOGNN021.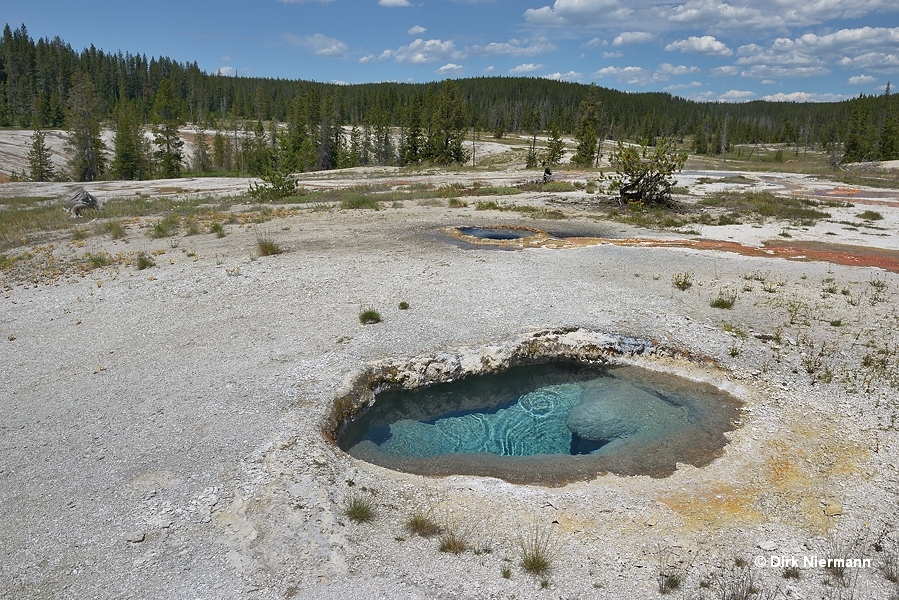 40 m (130 feet) west of it Eclipse Spring exhibits an expanded runoff with amazing colors.
On top of the sinter hill, which is home of the Orion Group, Union Geyser and Impenetrable Spring form a remarkable setting. A surprisingly high number of geysrite rims at different heights bear witness to long term changes of the water level in Impenetrable's steep crater.
Union Geyser is the largest spouter of Shoshone Basin, reaching eruption heights of 30 m (100 feet) out of its central vent, and both side vents contribute with lower water jets. Unfortunately, Union Geyser is dormant since 1977.
The area east of Union Geyser is perforated by many vents of barely active or dried up hot springs. Obviously, hot water supply has shifted away some decades ago. Despite of its low water level the marbled funnel of Sea Green Pool, which showed eruptions up to 3 m (10 feet) back in the 1970s, is still a pretty sight.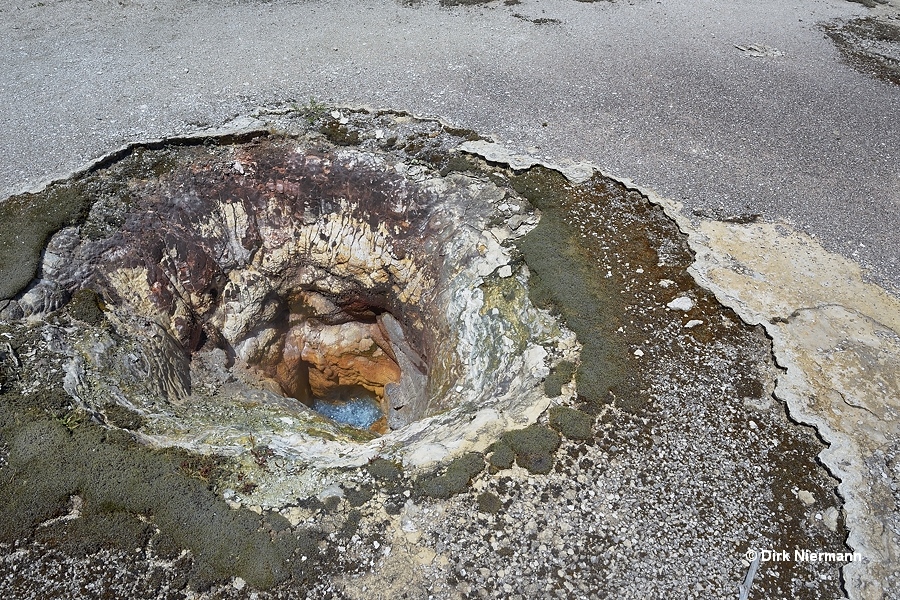 Just like Sea Green Pool also White Hot Spring was a mid-size geyser in the 1970s. Nowadays the shallow pool has almost eroded away, no water is visible in its cavernous vent, and activity is limited to slight spraying.
Moss Crater is not known as geyser, but exhibits nice sinter formations on a second look.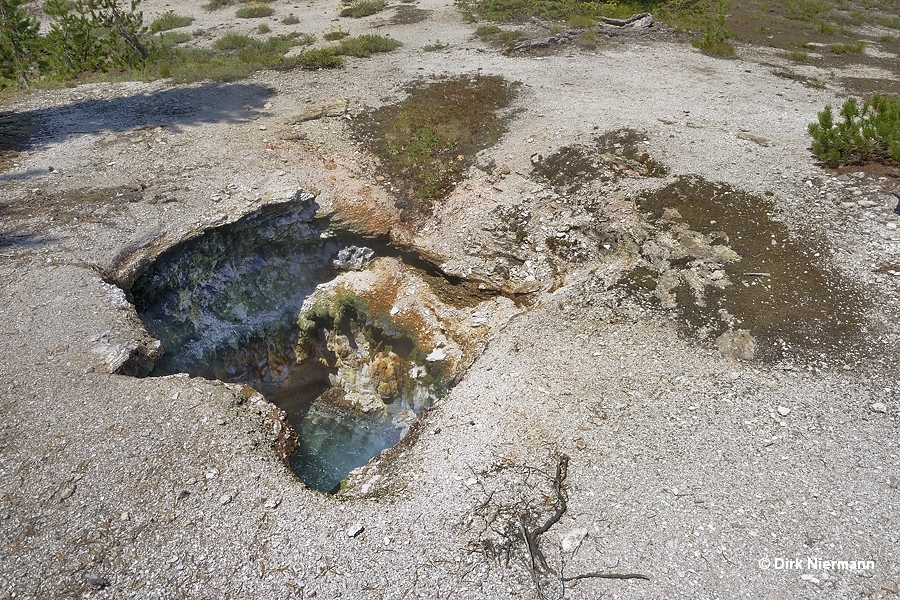 Even farther east the bathtub-shaped, boiling Marble Cliff Spring can be observed.