Upper Geyser Basin of Yellowstone
The Upper Geyser Basin is located in the Firehole River Valley, whose margins are formed by rhyolitic lava flows that erupted 100,000–160,000 years ago. It exhibits a particularly high number of thermal groups, 22 in total, and features around 300 geysers, the largest concentration in the world. Nearly all of them line Firehole River. Old Faithful Geyser for sure is the most famous and most popular feature, even if it's neither the tallest, nor the most regularly, nor the most frequently erupting geyser of the Upper Geyser Basin. Nevertheless, in combination of all the aspects its performance, maintained at least since it was discovered in 1870, leads to an outstanding feature in the world of geysers. Throughout the whole Upper Geyser Basin hot springs and geysers have probably been continuously active since the Holocene (8000 years before present), as found by radiocarbon dating of sinter drilling samples.

Basically, there are two routes for exploration, running from southeast to northwest along the main attractions. One of them is the paved old road, closed to motorized vehicles since 1972, but open to hikers and bicyclists. The old road connects the Old Faithful area with Morning Glory Pool via Castle Geyser and Grotto Geyser. Half way near Daisy Geyser it branches off to Biscuit Basin or, as a hiking only trail, to Black Sand Basin. The second route, mainly running at the other side of Firehole River and only open to hikers, starts at Old Faithful Geyser and leads through Geyser Hill Group, Sawmill Group, Grand Group, and Giant Group to join the old road at Grotto Geyser. Beyond Morning Glory Pool you may continue your hike through Cascade Group to Biscuit Basin.
Upper Geyser Basin, view from Geyser Hill along Vault Spring and Giantess Geyser towards the eruption column of Old Faithful Geyser: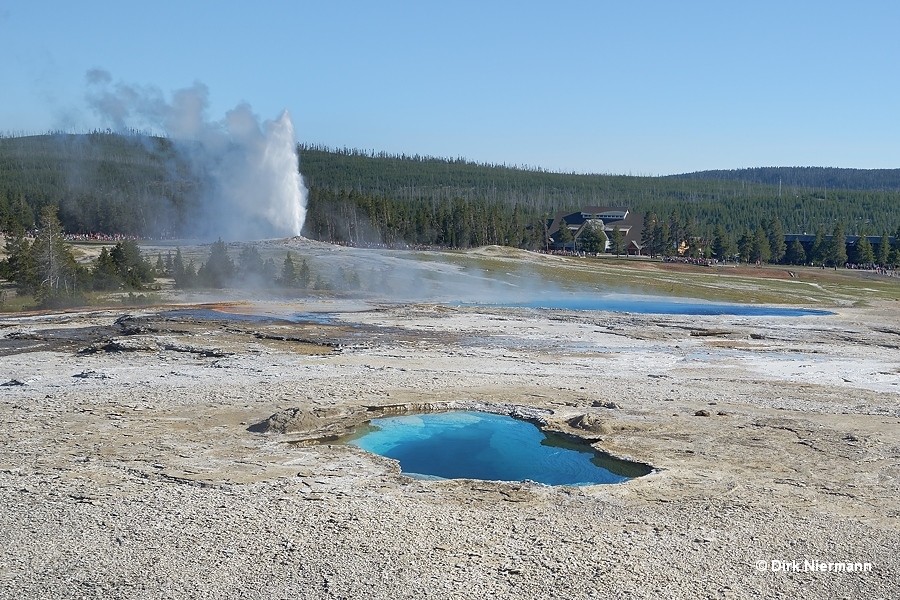 Upper Geyser Basin: Geyser Hill, Vault Spring, Giantess Geyser, Old Faithful Geyser
Virtual, descriptive tours through the single groups:
Content and photos on this homepage are protected by law. You may save photos on your Computer, but it is not allowed to use them in any other case without permission of the author. If you want to use photos originated by the author, please ask. Please respect licence conditions of photos of third parties on this homepage.