Sapphire Group of Biscuit Basin
Page 1 2
Among all thermal groups of Upper Geyser Basin the Biscuit Basin forms the northwesternmost tip. It can be reached via the hiking routes from the Old Faithful area or simply by car, driving 4 km (2.5 miles) north on the Grand Loop Road from Old Faithful. The Sapphire Group of Biscuit Basin encompasses the features west of Firehole River. From the parking lot it is accessible via a bridge over the river. Subsequently boardwalks take care of a safe walk through the area.

The parking lot is also the best spot to observe the perpetual spouter UNNG-BBG-8 on the west bank of Firehole River. This feature developed in the beginning of 2006 and has been informally named "Salt & Pepper Geyser" because of two active vents adjacent to each other.
Salt & Pepper Geyser: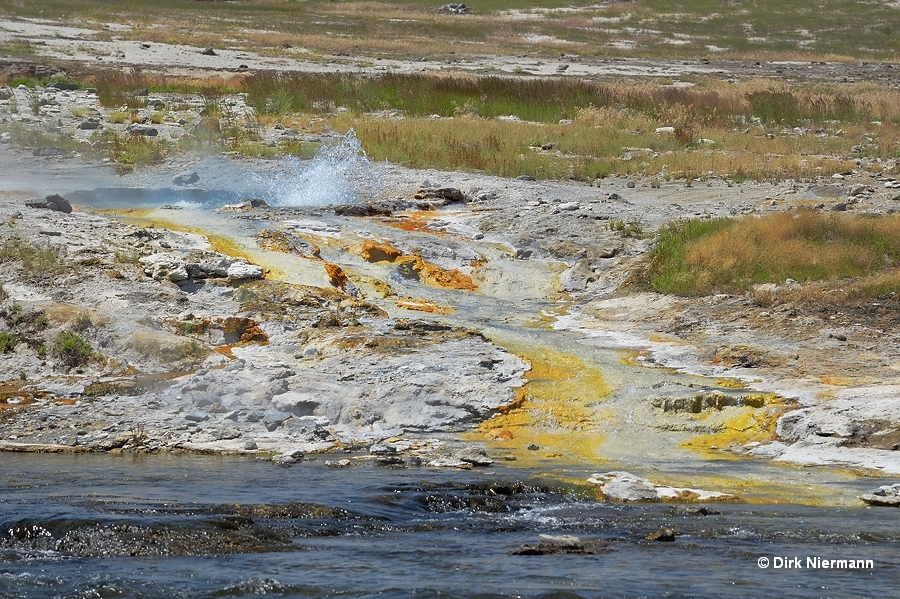 Salt & Pepper Geyser Yellowstone
Immediately beyond the bridge a colorful hot spring runoff shows up. Within the runoff lies UNNG-BBG-9, a small and unimpressive spring, sometimes showing some splashing.
UNNG-BBG-9:
The first really eye-catching features are two large, opalescent blue colored hot pools. Black Opal Pool, the one closest to Firehole River, is capable of powerful eruptions of considerable height. The last one ocurred in 1953.
Black Opal Pool in 2011:
Black Opal Pool Yellowstone
Black Opal Pools neighbor to the west, Black Diamond Pool, is known for even stronger eruptions up to 24 m (80 feet) in 2006. The last reported activity was in 2011.
Black Diamond Pool:
Black Diamond Pool Yellowstone
Third in the row is the quiet Wall Pool.
Wall Pool: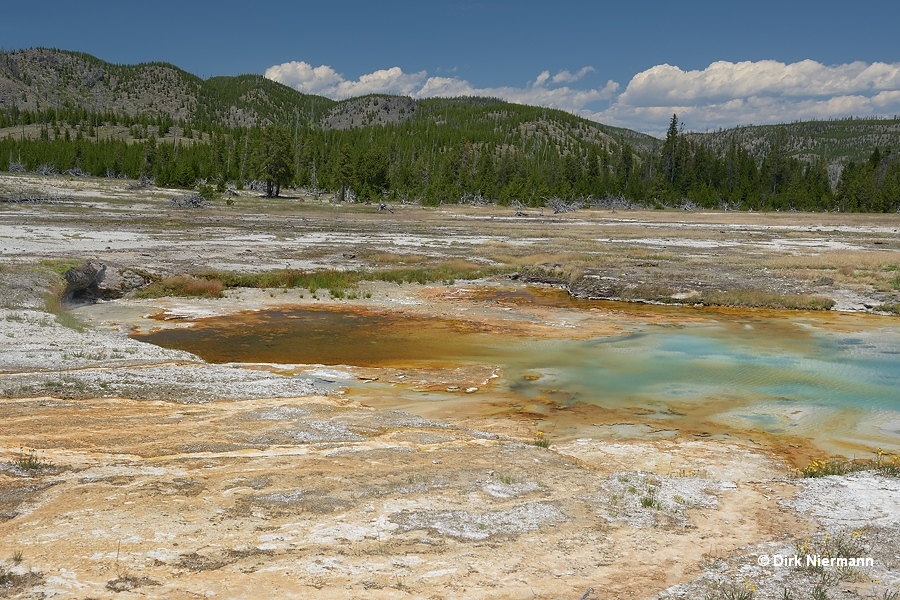 Wall Pool Yellowstone
During the known history Sapphire Pool has been the tallest geyser of Biscuit Basin. After the 1959 earthquake it erupted up to 38 m (125 feet) high, blasting away almost all of the biscuit shaped sinter aggregations along the rim. It continued playing with decreasing vigor up until 1971. The exceptionally deep blue spring has been dormant since then, a short interrupt occured only in 1991. On the picture some "biscuit structures" are recognizable in right foreground. Fortunately, here at least small remnants of the formerly widespread formations that led to the name Biscuit Basin are preserved.
Sapphire Pool: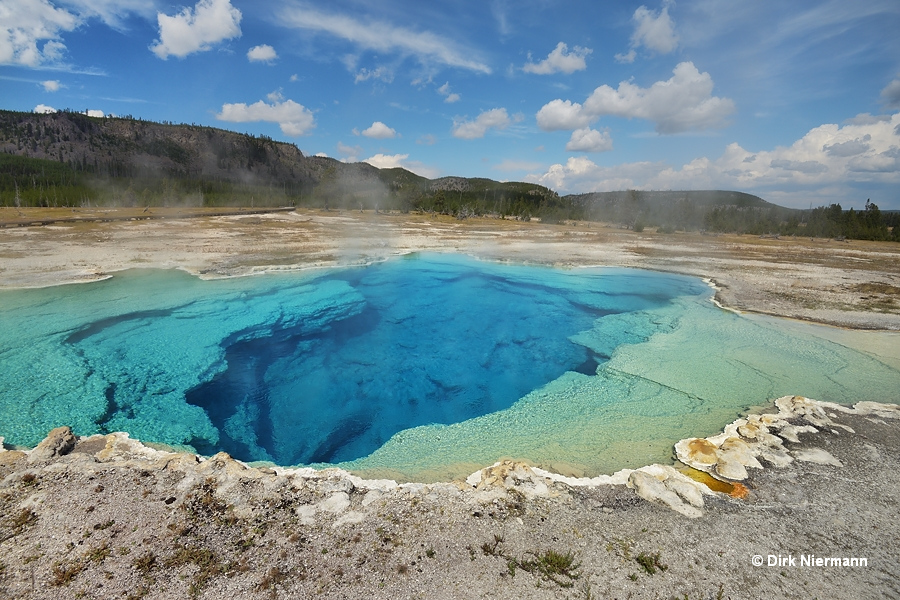 Sapphire Pool Yellowstone
Beyond Sapphire Pool the boardwalk forms a loop trail. Walking clockwise you first come across Jewel Geyser, whose beaded sinter formations are really impressive. Jewel is a very frequent performer, showing an interval of approimately 8 minutes. From 1932 to 1935 Jewel Geyser even was used as a replacement for the famous, but vandalized Handkerchief Pool. Textiles like handkerchiefs placed in the geyser were drawn into one vent and thrown out at the eruption by another vent. Fortunately, this misuse had been terminated by park officials before Jewel Geyser suffered damage.
Jewel Geyser erupting and quiet (roll mouse over picture):
Jewel Geyser
Across the boardwalk from Jewel Geyser a rolling geyserite structure is vaguely reminiscent of a giant clam's shell. The accordingly named Shell Spring is a cyclic geyser with several hours of recovery between the long lasting active phases. Although Shell Spring is only two feet deep, in July 1932 a 3-year-old girl from Idaho fell into it and died a short time thereafter.
Shell Spring: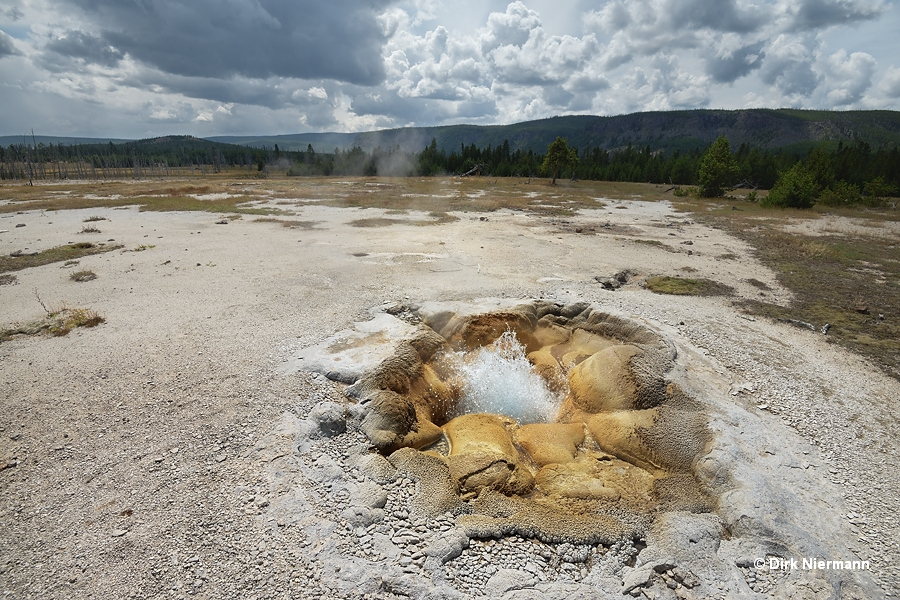 Shell Spring, Joy Hanny, Yellowstone
Page 1 2
Content and photos on this homepage are protected by law. You may save photos on your Computer, but it is not allowed to use them in any other case without permission of the author. If you want to use photos originated by the author, please ask. Please respect licence conditions of photos of third parties on this homepage.