Daisy Group lies on the lefthand side of the old road from Old Faithful Geyser to Morning Glory Pool. A loop trail, encircling the main features of the group, branches off from the old road and also leads back to it. Starting from the fork closer to Old Faithful and following the loop clockwise, Bank Geyser is the first noteworthy geyser at some distance on the righthand side. It plays every few minutes up to 2 m (6 feet) height.
Downslope of Bank Geyser some small spouters appear, called "The Bubblers".
Upslope of Bank Geyser, but impossible to spot if not erupting, Zig Zag Spring and Radiator Geyser are located. Radiator Geyser is rarely active, so most likely you may observe Zig Zag Spring playing up to 60 cm (2 feet) high at an interval of some hours. The name refers to the arrangement of several vents along a jagged fracture.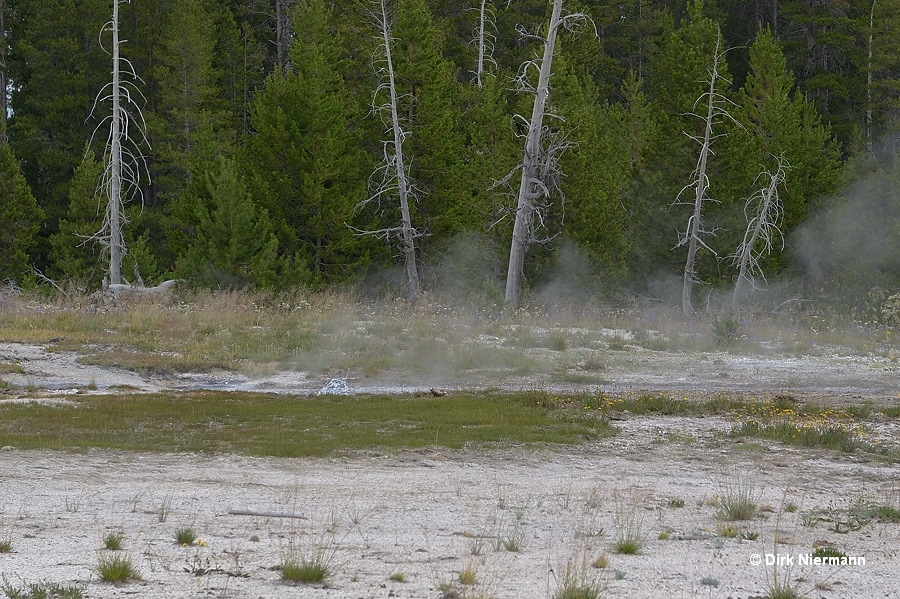 To the west Bonita Pool adjoins, a quiet pool close to Daisy Geyser. In Bonita's northern shoulder small geysers are embedded, called "Bonita's Sputs", which are playing short before Daisy Geyser starts.
Daisy Geyser is one of the most famous geysers of the Upper Basin. Its interval ranges between 2 and 3 hours and the characteristically angled jets may reach a height of 23 m (75 feet).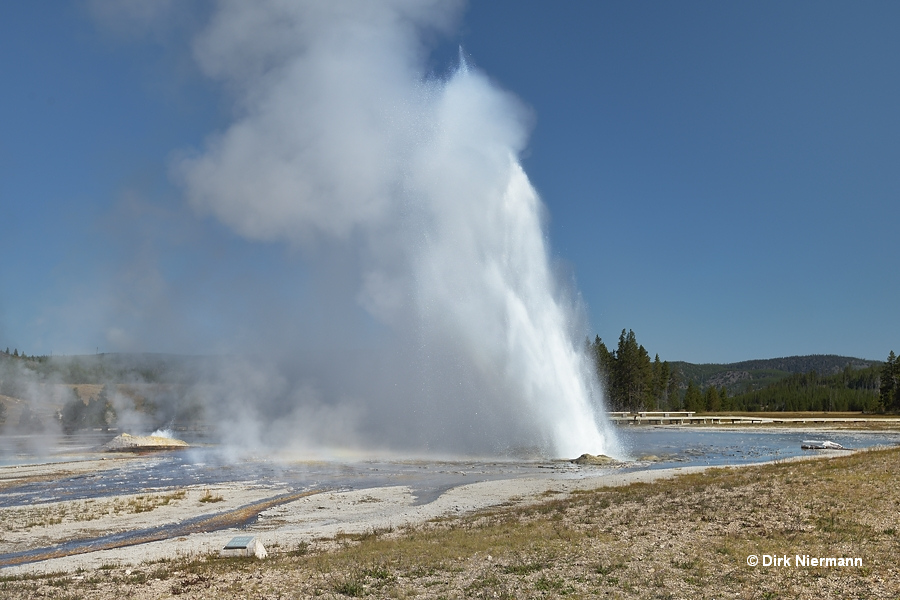 A few feet farther west Brilliant Pool is located in front of Comet Geyser. Brilliant Pool acts as a geyser on rare occasions, but it only erupts in concert with nearby Splendid Geyser.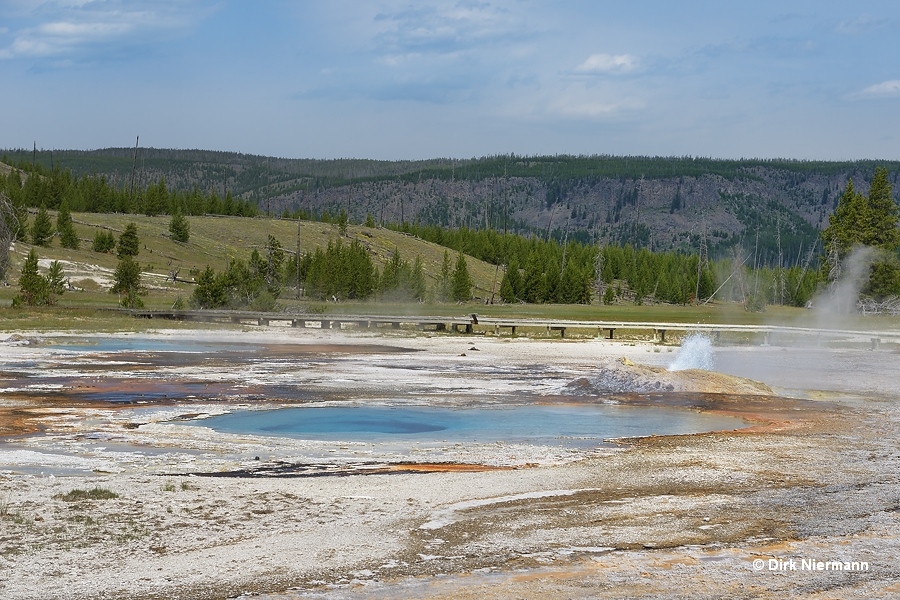 Comet Geyser can be best observed from the northern boardwalk. It shows nearly perpetual activity.
Splendid Geyser is the largest geyser of the group, performing more than 65 m (210 feet) high. Unfortunately it is dormant most of the time. The last eruption has been recorded in 1997.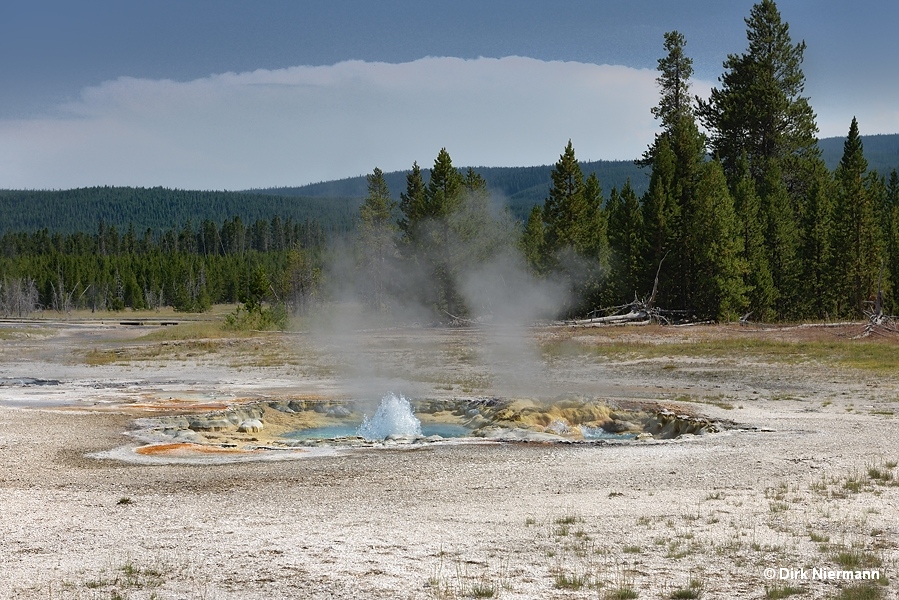 The section south and southeast of Splendid Geyser is perforated by many vents and small pools. Even if here, after Daisy's Thief Geyser went dormant in the early 1970s, no longer significant eruptions can be observed, minor spouting activity of some of the pools is not uncommon. The following picture shows an unnamed pool 6 m (20 feet) southeast of Splendid in August 2015.
Northwest of the Daisy Group loop trail a huge sinter mound emerges from the valley floor. In the prehistoric past White Pyramid Geyser Cone probably was one of the major geysers of Yellowstone. However, even white explorers in early times never saw any spouting activity, but found clearly visible discharge: "White Pyramid Geyser Cone, an extinct hot spring from which water was flowing in 1870, has receded to a level marked by seepage, 15 feet below the top." (Federal Writers Project, Wyoming: A Guide to Its History, Highways and People, 1941, p.422)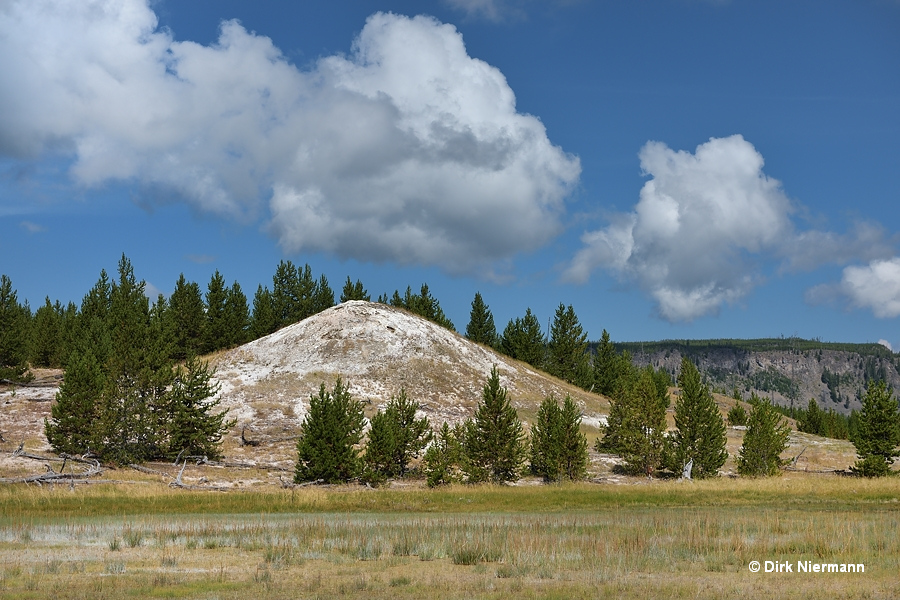 At the eastern base of White Pyramid Geyser Cone a sinter platform shows up, which is home of Pyramid Geyser. Often overlooked due to its brief play and remote position, it erupts up to 2.5 m (8 feet) high at an interval of some hours: Pharaoh's slender ghost from out of the pyramid's vaults.