Myriad Group got its name from the vast number of features concentrated on a small thermal field. It comprises also many geysers, but change is frequent, and so only a few are active at the same period of time. Due to the high number of vents the ground within the group is very dangerous. For that reason it is closed to public entry, but it can be observed from the roads and buildings west of Old Faithful Inn.

One of the most active members of Myriad Group is White Geyser, erupting every few minutes. It is located near the south edge of the group, beyond a large blue pool, called Many Spring Pond.
As the name implies, Many Spring Pond is a cluster of merging hot springs. It gives good orientation to find the spot with the largest concentration of geysers, occupying the sinter mounds beyond (west of) the pool. Besides White Geyser these are for example Spectacle Geyser, Myriad Geyser, and Round Geyser, the largest geyser ever observed in the Myriad Group with an eruption height of 45 m (150 feet).
North of Many Spring Pond, not far away from the road, some mud pots are scattered about the area.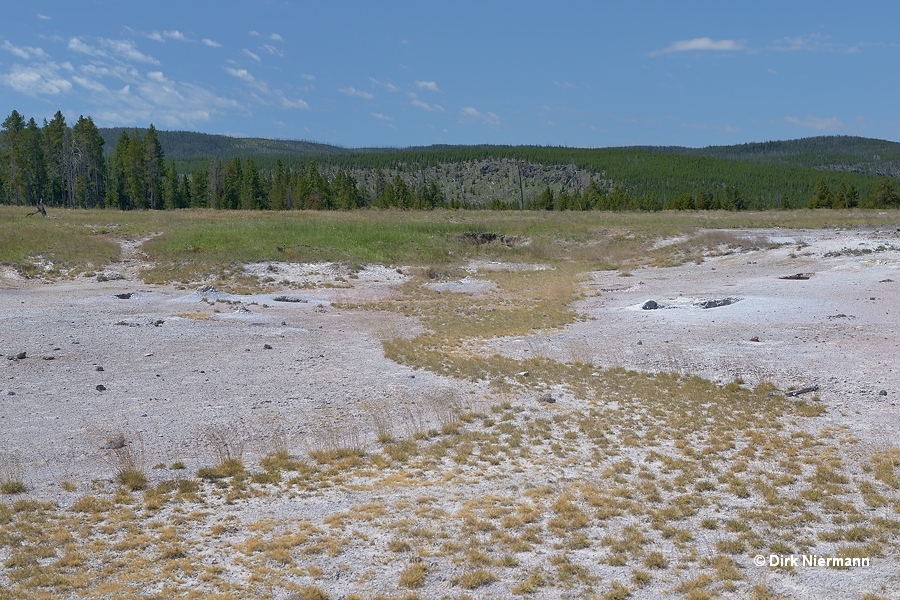 Another group of features can be seen from the access road to the Yellowstone Park Service Stations. Three Sisters Springs is the most eye-catching among them, and accordingly the road is named Three Sisters Road. The three connected pools comprise at least four geysers. One of them, Mugwump Geyser, is located close to the north rim of the northernmost pool, so its vent is quite easy to spot. Two further geysers, Three Crater Geyser and UNNG-MYR-1, are also to be found within the northernmost pool. Mugwump Geyser and Three Crater Geyser have been the most active geysers of the cluster, even if that means only a few times per year.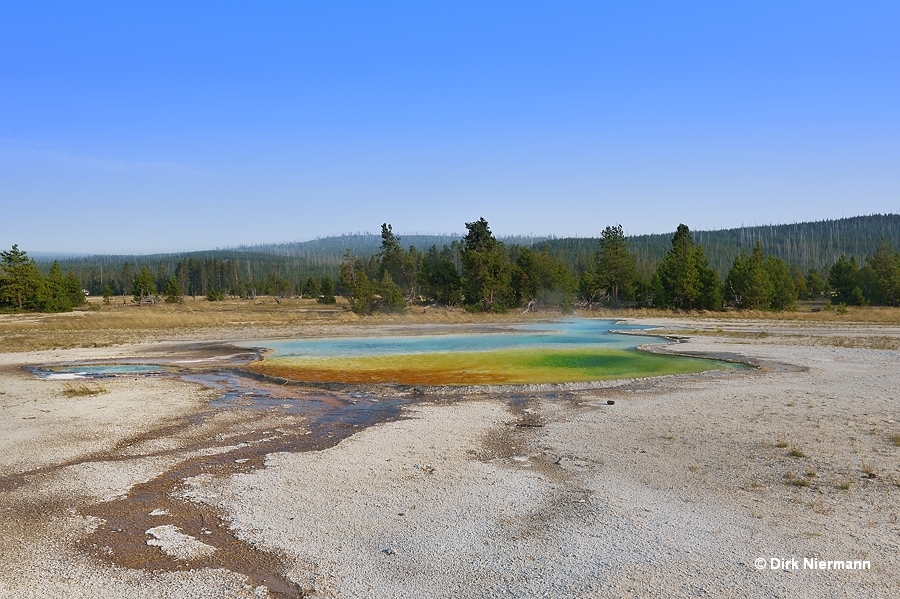 Little Brother Geyser adjoins Three Sisters Springs to the east. Its activity varies considerably over the years.
Basin Spring, marking the northwestern corner of the group, shows similarily erratic periods of activity than Little Brother Geyser. However, eruptions are only some feet tall and not very noticeable due to the distance to the road.